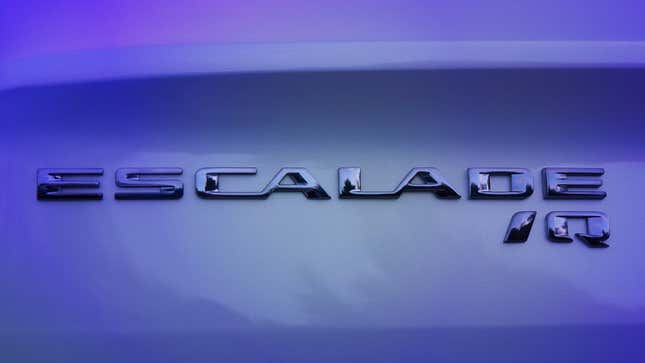 We already knew it was coming, but now it's official. Cadillac has announced plans to build an all-electric Escalade. Unfortunately, the American automaker has decided to stick with the naming convention that was leaked back in 2021 and call it the Escalade IQ. You know, because its electric models are supposed to all end with "iq." Like Lyriq, Celestiq, Mystiq, Tryptiq, Vistiq, Lumistiq, etc.

(OK, techniq-ally I made two of those up, but good luck guessing which ones are real and which ones are fake.)
To be fair, it's not like we expected Cadillac to abandon the Escalade nameplate as it moved toward an all-electric lineup. It's the only vehicle that Cadillac sells that actually has real name recognition. But we still would have preferred Cadillac's product planners pick something to call the electric Escalade that doesn't sound like they robbed Scion's grave.
Details on the upcoming Escalade IQ are essentially nonexistent, and by nonexistent, we mean we've already told you everything that we know. Literally. This is the release that we were sent in its entirety:
The Cadillac ESCALADE IQ will be revealed later this year and promises the same commitment to craftsmanship, technology and performance that has helped the Escalade nameplate dominate the large luxury SUV segment for the last 20 years. The ESCALADE IQ will join the LYRIQ and the upcoming CELESTIQ as Cadillac continues to build an all-electric portfolio.

The IQ naming strategy celebrates Cadillac introducing a different type of EV to the market — one that works in tandem with people's daily lives and environments. The IQ designation is Cadillac's EV nomenclature and first debuted on the LYRIQ.
What platform are they going to build it on? Who knows? How much power will it make? Your guess is as good as ours. It would make sense for it to be built on the Hummer platform and share its powertrain, but we can't say for sure. Assuming the Escalade IQ does end up being a Hummer-based luxury EV, you can also expect it to be heavy enough to crush a parking garage and more expensive than a nicely renovated starter home in Detroit. So that should be fun.