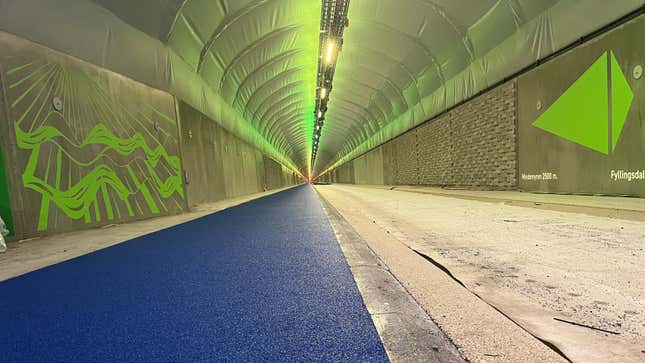 When most cities explore methods of making their streets friendlier for cyclists and pedestrians, government agencies usually propose installing protected bike lanes or maybe closing down a street to vehicle traffic. Almost no municipality is ever ambitious enough to create infrastructure specifically intended to be car-free. However, Bergen, Norway is preparing to open a vibrant 1.8-mile tunnel for only bicycle riders and pedestrians.
In case you missed it:
The Fyllingsdalstunnelen is a tunnel cut through one of seven mountains surrounding Bergen. The 1.8-mile tunnel will connect a residential area, Fyllingsdalen, with the center of the southwest Norwegian city. When the tunnel opens on April 15th, it will take 10 minutes on a bicycle to get from end to end or up to 45 minutes if crossing on foot. While it sounds like a lot of time to spend in cramped confines underground, the transit will slash commute times. According to Euronews, the tunnel will cut a typical 40-minute journey down to a 25-minute trip.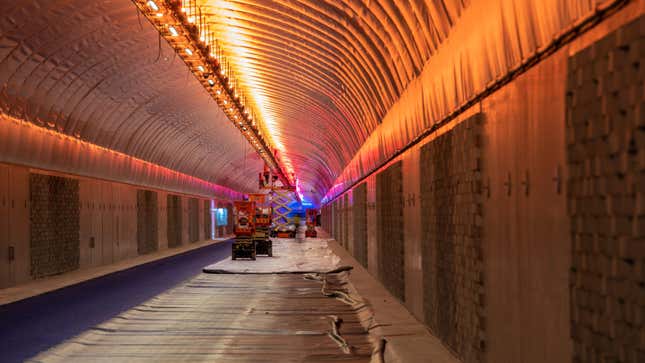 The Fyllingsdalstunnelen has been built with safety and comfort in mind. The tunnel is well-lit with colorful lighting fixtures, and its walls are beautifully decorated. There are also security cameras and an emergency phone every 800 feet. And if you're worried about continuously walking for 45 minutes, there are rest stops inside the tunnel. The entire length is also heated to 44 degrees, particularly important during Norway's winters.
The tunnel's construction was partly born out of an very unique opportunity. It was meant to serve as an emergency tunnel for a parallel light rail tunnel, but plans were expanded to allow for public use. Project manager Arild Tveit said to Euronews, "Basically, it is an escape tunnel for the tram. But then there were wise minds who said that it is possible to cycle through this tunnel as well. By creating a walkway here, it is also possible to exercise... So it is public health in every meter of this tunnel."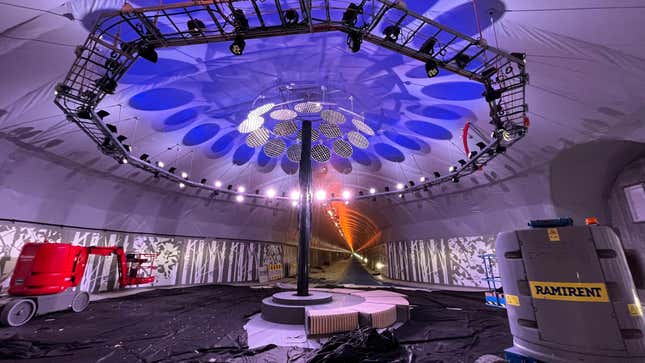 The construction was funded by Bergen's state-supported Miljøløftet, or Environmental Promise in English, agency. The organization hopes that the tunnel among other efforts would encourage more people to cycle or walk over driving, reducing emissions, pollution and traffic.
When the Fyllingsdalstunnelen opens on April 15th, it will be the longest purpose-built cycling tunnel in the world. There is a longer tunnel in the United States, the Snoqualmie Tunnel. The 2.2-mile tunnel outside of Seattle, Washington was built in 1914 for the Milwaukee Road, a defunct railroad. The tunnel was abandoned in 1980 and converted into a rail trail, not purpose-built.