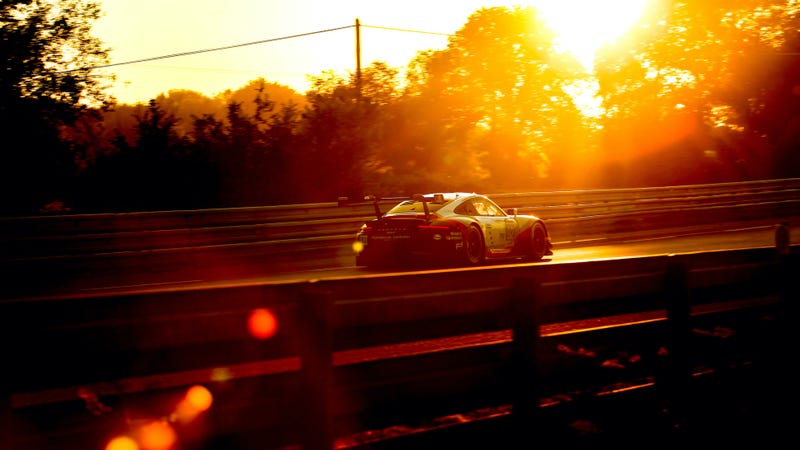 Did you get suckered into doing other things during the past 15 hours besides watching the 24 Hours of Le Mans? Are you looking at the timing screen wondering why we're down to only one working Porsche 911 RSR and one Toyota TS050? We're here to help. Here's the rundown of retirements so far.
This has been a particularly carnage-heavy race, most shockingly in the LMP1 category that's usually a lot more reliable than this. And of course, if your favorite cars are still in the race—congrats! You're one of the lucky ones. So, here are all the reasons why some fan favorites are toast.

LMP1: Because You Like Nice Things

No. 4 ByKolles Racing ENSO CLM P1/01: Engine failure.
No. 7 Toyota TS050: Clutch failure.

No. 9 Toyota TS050: Collision with the No. 25 CEFC Manor TRS Racing LMP2 on the restart directly after the No. 7's retirement. Contact with the No. 25 caused a tire failure that ripped apart the rear of the car.
LMP2: Gunning For That Overall Podium

No. 26 G-Drive Racing Oreca 07-Gibson: Damaged after punting a 911 into the wall and/or karma.

No. 25 CEFC Manor TRS Racing Oreca 07-Gibson: Collision with the No. 9 Toyota TS050.

LM GTE Pro: It's Your Dream Car, But The Race Car Version

No. 82 Risi Competizione Ferrari 488 GTE: Smacked into the wall by the No. 28 TDS Racing LMP2.

No. 92 Porsche 911 RSR: Spun off into the wall.

LM GTE Am: How You'd Spend Your Powerball Winnings

No. 16 Proton Competition Porsche 911 RSR: Punted into the wall by an LMP2.

Additionally, some of the expected contenders had lengthy repairs that took them out of contention. The No. 2 Porsche 919 and No. 8 Toyota TS050 are both trying to claw their way back up in the standings after having to replace hard-to-reach hybrid motors. The No. 98 Aston Martin Racing car that had been dominating the GTE Am class had a tire blow up in spectacular fashion. The pole-winning LM GTE Am No. 50 Larbre Competition Corvette C7.R had a time-consuming off into the gravel. And of course, LMP2 has had plenty of off-track excursions.
If your live stream keeps hiccuping and going out, apparently that's been the victim of several cyberattacks during the event as well. Man, nothing is safe at Le Mans this year.