This is The Morning Shift, our one-stop daily roundup of all the auto news that's actually important — all in one place every weekday morning. Or, you could spend all day waiting for other sites to parse it out to you one story at a time. Isn't your time more important?
1st Gear: I Can't Wait For The Panicked Zero Hedge Article
Yes, the number of delinquent auto loans is rising. That isn't good, but it's also not particularly bad either. We're recovering from a recession, there are going to be more people who can pay back their loans who have bad credit than people who can't.
First, the data, from Greg Gardner:
Experian, a data analysis company that helps lenders manage risk, issued a report Wednesday showing that the percentage of auto borrowers who are at least 30 days behind rose 3.7% between July and the end of September from the year earlier period.
Those who are 60 days or more behind jumped 8.6% from a year earlier.

Deep subprime loans, which carry even greater risk than subprime loans, accounted for 3.84% of all car loans in the third quarter, up from 3.57% a year earlier.
G/O Media may get a commission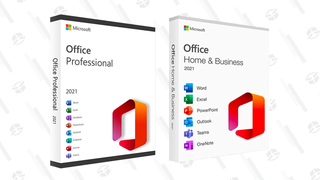 89% off
Microsoft Office Professional 2021 Lifetime License
That's not a ton and, at some level, growth is going to require selling cars to people who either got fucked or fucked up in the last ten years. Unless the economy falls apart, it's worth the risk, and, frankly, if the economy falls apart in a significant way again we've got bigger problems (note: that doesn't mean a stock market correction but a contraction in GDP and a massive rise in unemployment).
I don't believe you can always "look before you leap." Sometimes you just have to take a leap. It's the lack of spending and investing that's hurting the economy, not the kind of freewheeling fiscal attitude that got is into the mess.
2nd Gear: Cadillac Could Add 300 Employees In New York
A global brand needs a global HQ and, while we've made a bunch of jokes about Johan De Nysschen always moving his company's home bases, the reality is probably that many of these decisions were made before he ever took the jobs.
Now we're looking at a possible 300-employee-strong setup in New York. Why? Here's the take from The Detroit News:
Cadillac Chief Marketing Officer Uwe Ellinghaus continued to stress that the move is to change the conversation around the brand, and it will ultimately benefit Detroit.

"We, of course, remain a proud subsidiary of General Motors, even if we go to a more standalone business," he told The News on the sidelines of the Los Angeles Auto Show on Wednesday. "What strengthens Cadillac going global in New York, because it is the most cosmopolitan city in the world, will also strengthen General Motors at home in Michigan."

Ellinghaus said he was surprised by the amount of criticism surrounding the move.
This place is great, so it makes sense to me.
3rd Gear: Who Is Obama's New NHTSA Chief?
Lost in the Los Angeles Auto Show news yesterday was the announcement that President Obama named a new NHTSA director in Mark Rosekind. So who is this guy?
Rosekind studied the effect of fatigue on pilots in multiple studies while at NASA. He later founded Alertness Solutions, which consulted with private companies on how to manage fatigue among their workforce.

He became a member of the National Transportation Safety Board in 2010 and has acted as a spokesman for that agency at seven major transportation accidents.

"Rosekind is one of the nation's most respected safety watchdogs across all modes of transportation, and I welcome his keen eye and life-long commitment to safety, and I look forward to working with him," Friedman said in a statement yesterday.
NHTSA is about six kinds of screwed up right now, so here's hoping he can help start t unwind their problems.
4th Gear: Arizona Sues GM For $3 Billion
While there have been numerous lawsuits initiated against General Motors, the newest action is a bit different in that the State of Arizona is suing GM for about $3 billion on behalf of the state's residents.
It's also significant because most state's have agreed to take a multistate action, The New York Times reports. That makes sense as much of Arizona has historically refused to follow the rest of the United States in recognizing daylight savings time, MLK, Jr Day, or basic human rights.
Here's how they came to that number:
"It manufactured and sold millions of vehicles that were not safe, including hundreds of thousands in Arizona, and it failed to remedy serious defects in millions of older G.M.-branded vehicles," the complaint said. As examples, the Arizona attorney general calculated that the 2010 and 2011 models of the Chevrolet Camaro had lost $2,000 in value, and the 2009 Pontiac Solstice had lost $2,900.
Cool.
5th Gear: Uber Would Like To Find One Group That Doesn't Hate Them
As a business, Uber does many things right. It's quick, usually affordable, and so convenient to use that I told a bunch of people not to use it and then... accidentally ended up using it like a day later. It's just part of the urban experience.
As they grew up their default corporate setting was "dickhead," but that's probably not going to work ever (trust us, we were kind of dicks to start out). In an effort to start to repair their relationships with people their Senior VP David Plouffe (yes, that David Plouffe) said they were going to roll out a program to reward drivers.
The program is called Momentum, the mobile car-booking company said today. It includes a health-care recommendation tool, discounts of as much as 15 percent at auto-maintenance retailers including Jiffy Lube International Inc., and discounts on wireless plans through AT&T Inc. and Verizon Communications Inc.
Over wings and beers an Uber exec was heard floating the idea that anyone refusing the plan would have their sex-life revealed to the world, secretly, through friendly mouthpieces.
Reverse: Someone Invented Yellow
On this day in 1923, the U.S. Patent Office grants Patent No. 1,475,074 to 46-year-old inventor and newspaperman Garrett Morgan for his three-position traffic signal. Though Morgan's was not the first traffic signal (that one had been installed in London in 1868), it was an important innovation nonetheless: By having a third position besides just "Stop" and "Go," it regulated crossing vehicles more safely than earlier signals had.
[HISTORY]
Neutral: Are These Delinquent Really That Bad? Or is it much ado about nothing?
Photo Credit: Getty Images/AP