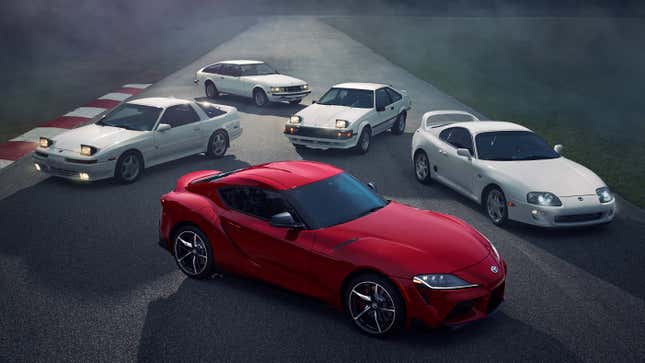 After nearly a decade of buildup, the 2020 Toyota Supra is finally here. And the question that usually comes when you talk about it is this: Why? Why the BMW 3.0-liter turbo inline-six engine and platform? Why not an all-Toyota setup to headline this famous car's comeback story? I talked to Tetsuya Tada, the car's chief engineer and Toyota's performance boss, and got some illuminating answers about car packaging, noise regulations and even why the other Toyota sports car has a Subaru motor.
Chase Elliott Explains the Challenge of Adapting to NASCAR's Next Gen Car
(Full Disclosure: Toyota flew me out to Middleburg, Virginia for the Supra's launch, and also paid for my lodging, food and booze.)
And by "talked to" I mean "cornered at dinner while the poor man was just trying to eat some soup" ahead of driving the new Supra at Summit Point Motorsports Park for the car's American launch.
But it turns out Tada is a gracious fellow, and eager to talk about the birth of a car that's very much his baby. He likened the new Supra's arrival to his son being born.
(He's also a bit of a character, too; turns out he's a hardcore Pokémon Go enthusiast who spent part of his day in Washington D.C. ahead of the Supra event trying to catch some, including up near the White House.)
I've been covering the new Supra's development pretty much the entire time I have worked at Jalopnik, seven years now. That's seven years of wild car magazine rumors, spy shots, concept cars, more concept cars, our own renderings based on internal documents and now, finally, the car's debut. To say I'm eager to finally get behind the wheel is an understatement.
Tada is well aware of the long gestation process, too. He's been with Toyota for more than 20 years and was slated to work on the Mark IV Supra's replacement back in the 1990s, a car that sadly never happened. He went on to develop compact vans and then the 86 joint venture with Subaru. That's given him a lot of time to know what he wanted to do with the Supra if he ever got the chance again.
As such he's been eagerly watching the reactions online to the car he's been wanting to do since the late 1990s. He's aware of some of the criticisms around the new Supra's $50,920 price, BMW underpinnings and automatic-only powertrain. But he's also convinced they've built a legitimate Porsche Cayman S-fighter and that fans will come away impressed.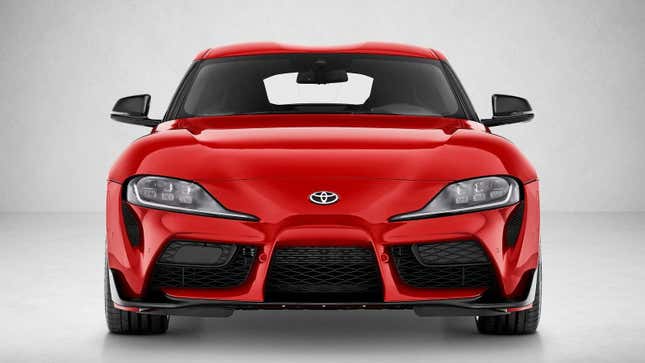 That's why, he told me through an interpreter, he's eager to clear up what he feels are some misconceptions about the new Supra.

The biggest one, he said, is that it's just "a BMW parts bin car"; he strongly objects to this characterization, even if it is one we ourselves have made based on a close look at the motor and chassis involved.
Tada said Toyota and BMW worked very closely on early stage development of the Supra and its twin the Z4, but they had similar aims. This time around, Tada told me, BMW wanted to make the Z4 a more athletic sports car than it had been in the last go-around. That's why it's nearly 300 pounds lighter than the old six-cylinder Z4, more aerodynamic, wider and with a shorter wheelbase.
All of these, Tada said, are things Toyota had heavy input on. And later on the two companies parted ways on all manner of tuning, including suspension and steering, such that Toyota folks at this event who have driven both say they ended up feeling quite different.
"BMW was set on another convertible," Tada said. "Toyota was set on a coupe. We had to have a meeting of minds. BMW admitted the old Z4 wasn't much of a pure sports car."
Eventually they settled on taking aim at Porsche's mid-engine Boxster and Cayman, two extremely worthy opponents. But why go with BMW in the first place?
"It wasn't a matter of lowering costs," Tada said. At least not entirely, though that did happen. "The Supra had to have an inline-six. BMW had a good inline-six."
It would've taken years for Toyota to develop such an engine from scratch, he said—and "another factory. How realistic would that be?"
Even if it meant a new inline-six engine family (or perhaps even a modular one, just like BMW and Mercedes are doing) for applications in other cars—like various Lexus models, I suggested—Tada said the long-term applications for pure, conventionally powered gasoline engines are increasingly limited. Toyota, like all automakers, is investing heavily into electrification and autonomy, he said. Re-tooling everything just to make a straight-six didn't sound to be in the greater strategy.
And in the end, it all comes down to packaging.
"Aside from the Supra, there aren't too many cars in existence now where a inline-six would better than the engines we've already built," he said. "In the past lots of automakers had straight sixes. You should know exactly why" there are fewer of them these days, he said. "It's a very difficult engine to package. You lose space for the driver and the passenger."
That's one of the reasons the new Supra is a two-seater, he said, unlike its predecessors that were 2+2s and more along the lines of grand tourers.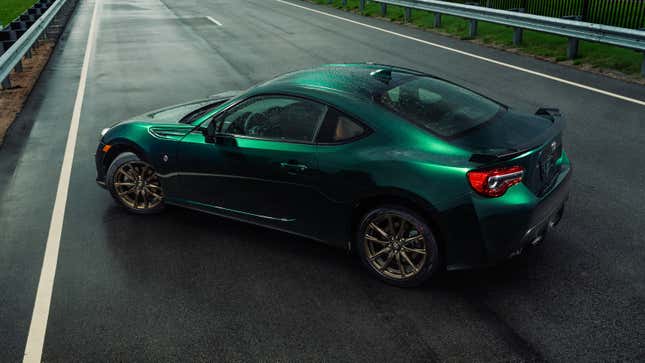 Tada said he was similarly "bombarded" when the Toyota 86 and its twin the Subaru BRZ came out. Fans wondered why a Toyota sports car should use a Subaru Boxer engine. But the answer was the same, he said.

"Everyone thinks it was for a low center of gravity, but that's not true," he said. "We always wanted (the 86) to be a 2+2. And Boxer engines are very short," ideal for such an application.
"The packaging for the Supra is different," he said. "It has its own messaging and its own purpose."
But cost-savings did happen by working with BMW. As the sports car market globally continues to decline, I think we'll see more arrangements along these lines, as we have with Mazda and Fiat and even Toyota and Subaru. Joint ventures are a good way to make sports cars still happen as they become increasingly niche. The downside, I suppose, is that fans will have to live with sports cars that are a little less unique than they used to be.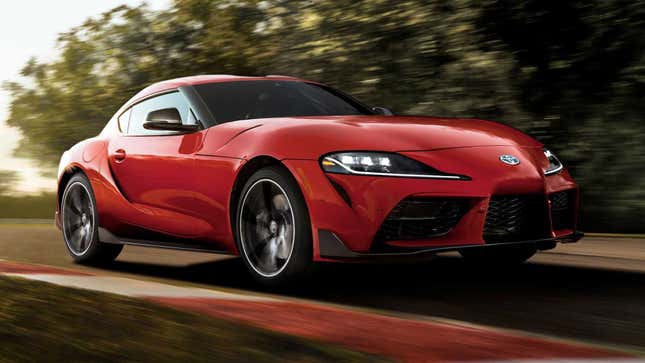 To make the new Supra an all-Toyota project, Tada said, would have pushed development back two or three years and possibly put the price tag over $100,000. He didn't want that, he said. While its $50,920 base price isn't cheap, it's still relatively attainable.
"To make the car so expensive would defeat the purpose of a Toyota sports car," he said. He said he wanted the Supra to be something that normal humans could possibly afford if they worked for it. "That's why it doesn't use exotic materials like carbon fiber."
Speaking of costs, I joked about some of the wild rumors we've heard about the new Supra over the years, like how it was once said to be a mid-engined hybrid.
"We considered it heavily," Tada confirmed. But why it went a different path than the new NSX isn't surprising. "It came down to battery weight, and cost. We wanted to keep it accessible."
I've been following Tada's work for a long time now, reading nearly everything I could find on the development of both the 86 and the Supra. Through all that, and in talking to him, I get the sense that he's a man who knows exactly what he wants to accomplish as an engineer. And if he can't find what he needs off the company shelf—for the performance he wants, the lap times he wants, the price point he wants and so on—he'll go get it somewhere else rather than allow his vision to be compromised.
After all, Toyota and Lexus do have beefy V6 and V8 engines and rear-wheel drive platforms. If they could've produced the sports car he wanted, in precisely the way he wanted, I think he would've used them—especially given what a proud Toyota company man he seems to be.
But selling this exact vision will take some convincing on Toyota's part, as the car's been met with plenty of skepticism right out of the gate. Then again, enthusiasts are never truly happy; even if this thing weighed 2,500 pounds, had 500 horsepower, a manual gearbox, featured the second coming of the 2JZ engine and cost $30,000, people would still find reasons to complain.
I closed by asking Tada what aspect of the new Supra he was most proud of. He gave me a solid enthusiast answer: the noise.
"The sound of the engine," he said with a grin. "Not just when you're on the throttle, but when you're off. There are very stringent sound regulations these days. One generation before, there were a lot of cars that had a really good sound. But in the new Porsches and so on, everyone is restricted by these new regulations... in Europe and America. Every year, everything gets more strict."
Being able to create the sound on the Supra, he said, "is almost a miracle. It may not even be possible on future production cars."
Not a pleasant thought, but a plausible one as the world goes electric.
Everything Tada told me here made sense, but will his 20-year vision for a new Supra add up to a driving experience that was worth the wait? I plan to find out soon.