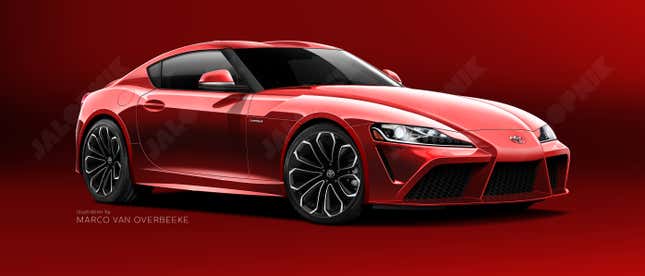 The new Toyota Supra. Not since the C7 Chevrolet Corvette has there been a sports car enthusiasts have been more excited to see uncovered. And like the C7 Corvette, we think we can show you before anyone else what it'll look like.
We're Driving the 2024 Integra Type S, What Do You Want to Know?
What you're looking at is, to the best of our knowledge, the most accurate rendition of the new Supra to date. But it wasn't easy to get.
As with the C7, a source provided Jalopnik with inside information that Toyota certainly would not have wanted us to get. Using that, along with recent spy photos and videos, we've been able to construct what we believe is a realistic representation of what the car will look like when it goes on sale. (Obviously we took artistic license with a handful of details, like the headlights and wheels, but the rest of it is spot on with what we got.)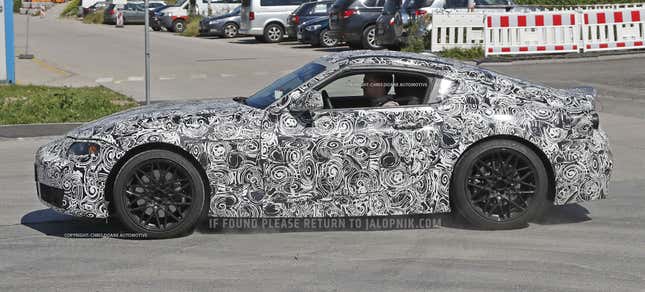 Toyota, of course, declined to comment. It's much more difficult to get confirmation of this kind of thing as automakers post-C7 have been harder to break, and Toyota and its suppliers, in particular, have kept their lips sealed.

So what are we looking at here, exactly? It's a brawny coupe with traditional sports car proportions—long hood, low roofline—that clearly takes cues from the wildly popular Toyota FT-1 concept that debuted at the Detroit Auto Show in 2014. It's just toned down for production, as these things usually are. But the scalloped roof, windows, arching rear fenders and almost airplane-like nose cone are clear homages to that design.
(It also reminds me quite a bit of the Toyota FT-HS concept from 2007, which a lot of people also surmised would become the next Supra.)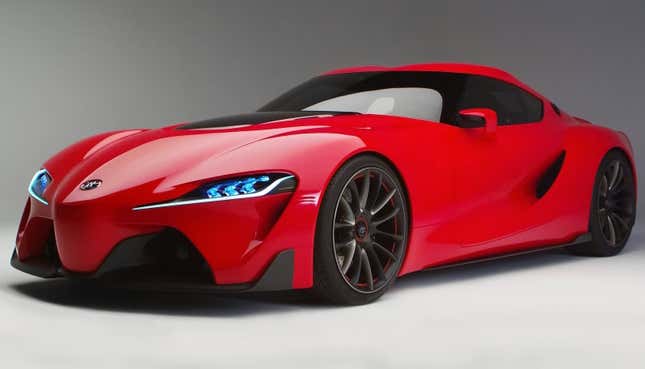 So that's what we know. Here's what we don't.
The name. It's been dubbed the new Supra by pretty much everyone, but there's been no official confirmation from Toyota yet that it will be called that. They'd be fools not to, though.
The engine. The car's platform is co-developed with BMW, but no one is clear what motor is under that hood. It may be a twin-turbo six, potentially a V6 with some 400 horsepower. It may also get built in Austria. That's where the shadow car company Magna-Steyr already produces a few cars for BMW specifically—we think this car will also be a Z5 roadster for the Germans. It may also be a hybrid with all-wheel drive too.
The price. Who can say? Let's hope Toyota keeps it relatively affordable. The last twin-turbo Supra got pretty pricey, but it was still a giant-slayer in terms of performance. And that was before the tuners got ahold of it.
When we'll get it. I'm assuming soon! The camouflaged mules running around are no secret at this point. A debut at the Los Angeles Auto Show in November is possible, but if it's not revealed at a special event somewhere, the Detroit show in January seems more likely to me.
No matter what, this will be the most hotly-anticipated new performance car in a generation. Here's hoping Toyota can make it move as good as it looks.