Good Morning! Welcome to The Morning Shift, your roundup of the auto news you crave, all in one place every weekday morning. Here are the important stories you need to know.
1st Gear: Non-Diesel VW Sales Down Too
As you saw yesterday, Volkswagen took a 25 percent year-over-year sales hit in the U.S. in November, the company's first major hit since the Dieselgate broke. That included a drop in gasoline-powered vehicles too, despite VW increasing incentives. Why? According to Bloomberg, it has to do with production:
The automaker is trying to boost production of the gasoline-powered cars that it is allowed to sell, but it didn't increase shipments to dealers until the middle of the month.

"I had more cars that I can't sell parked in the back lot than I had in the front lot for sale," said Alan Brown, who co-owns two VW dealerships in the Dallas area and is chairman of the brand's U.S. dealer council. "The factory is still trying to reset production to gasoline cars and that can take three or four months to get inventory in."
Brown said he started the month at one of his stores with just 38 salable new cars on the lot, about a third of what he would like. VW got more cars to dealers about Nov. 18, but it takes at least a week to prepare the cars for sale and advertise them, he said. He now has 135 vehicles and thinks sales will return to normal levels this month.
Audi, on the other hand, had a 0.4 percent increase, enough for a record November sales month.
2nd Gear: Who's Up?
VW was down in November, but which automakers were up? According to Automotive News, pretty much everyone else:
Hyundai set the pace in November as most automakers rode U.S. light truck demand to sales increases and the industry moved closer to an annual record.

Gains among major players fell within a narrow range of 0.3 percent at Ford Motor Co. to 3.8 percent at Nissan Motor Co. Hyundai's 12 percent increase stood out in percentage terms. Only American Honda and Volkswagen Group posted a decline in volume.

[...] Automakers projected November would mark the third straight month of a seasonally adjusted annual sales rate above 18 million. The strong November results will help push the industry closer to topping the U.S. sales peak of 17.4 million, set in 2000.
G/O Media may get a commission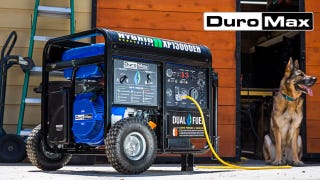 Black Friday Sale
DuroMax Generator Sale
Besides those two, Mini, the Chrysler brand, Jaguar and Maserati all posted double-digit sales drops.
3rd Gear: Human Beings Are Essential To The Auto Production Process, Say Germans
The Porsche-Piech family of Germany, which still largely control the Volkswagen Group, on Tuesday reaffirmed their commitment to workers and their labor unions amid the ongoing diesel scandal. Via Automotive News:
Volkswagen Group's billionaire owners, the Porsche-Piech clan, underscored their commitment to the automaker, pledging to protect jobs as the company battles with its emissions crisis.

"Jobs are a very valuable asset," Wolfgang Porsche, chairman of family-owned majority shareholder Porsche Automobil Holding SE, told a gathering of 20,000 workers at VW's main plant in Wolfsburg today. "This asset mustn't be squandered."
The reports say Wolfgang Porsche, an organic dairy farmer who has until now lived quietly in Austria, has been thrust into the limelight after his cousin former Volkswagen Chairman Ferdinand Piech resigned earlier this year.
4th Gear: Nissan Wants Limits On French Control
The French government has a great deal of control and voting rights over the Renault-Nissan Alliance, but Nissan wants limits on that, as well as limits on Renault too. It won't be an end to their unusual but largely successful alliance, but Nissan seems to want more autonomy. Via Reuters:
Japanese carmaker Nissan (7201.T) has set out new proposals to end parent Renault's (RENA.PA) control and block French government interference in their alliance, two sources said on Wednesday.

The revised demands aim to defuse a governance row that erupted in April when French Economy Minister Emmanuel Macron raised the government's stake in Renault to 19.7 percent from 15 percent to secure double voting rights.

In a document outlining its position, Nissan is seeking limits to state voting rights in Renault as well as written guarantees against intervention in its operations by the French carmaker, which owns 43.4 percent of Nissan, the sources familiar with the matter said, confirming a report in Le Figaro.
5th Gear: Volvo's Doing Pretty Well Right Now
We got a glimpse of the new Volvo S90 sedan today, but even before it debuts, it seems Volvo's renewed lineup—led by the XC90 crossover—seems to be a hit off the bat. One more from Automotive News:
Volvo sold 49,055 cars worldwide last month, the automaker said in a statement Tuesday, the highest number on record for a single month.

U.S. sales increased to 6,903. Volvo's U.S. sales have picked up in recent months after eroding over the past decade due to a dearth of new models and limited financing options.
They were even up in China last month. Not bad.
Reverse: Hydrogen!
Neutral: How Does VW Survive Until They Can Start Moving Diesels Again?
Ramping up gasoline production and incentives may do the trick for a bit. Or is there something else they can do?
---
Contact the author at patrick@jalopnik.com.