With 16 powertrain combinations, a huge host of features, and some off-road chops, the 2015 Jeep Renegade could be Chrysler's ticket across the bridge between old Jeep fans and new ones, and spread their brand around the world. Yes, you can order a manual.
The Ford Taurus Is Reborn — But Only For the Middle East
Designed in the US and built in Italy, the Renegade represents a key component of Chrysler's quest for world domination. They're hoping the Renegade will get the Jeep brand into the hearts and consciousnesses of more markets around the world, and they just might succeed— it's a cracking little cute ute.
But it's a Fiat crossover and I think the last great Jeep was the XJ Cherokee, why should I care?
G/O Media may get a commission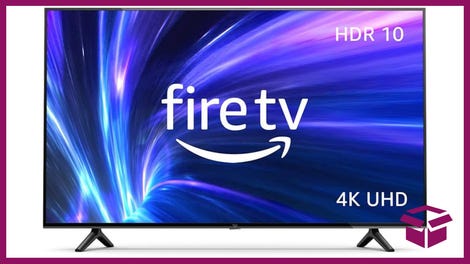 42% Off
Amazon Fire TV 50" 4K Smart TV
The new Jeep Renegade has some very cool features and offers something we haven't had in the US since the Suzuki Samurai; a compact 4WD with an opening roof that's not a Wrangler.
Ok, any interesting engines?
Sharing the "small-wide" platform with the Fiat 500X, The Renegade will be sold globally with four MultiAir conventional gasoline engines, two MultiJet II diesel engines, and a flex-fuel engine Chrysler calls E.torQ potentially fitted depending on markets.
What are the gearbox options?
An all new and first-for-segment nine-speed automatic will probably be the most commonly ordered gearbox, but two manual and one dual-dry clutch transmission (DDCT) will also see duty in Renegades.
Nine speeds sure sounds like a lot, but it will allow the gearbox to operate through a larger range of ratios than a CVT would. Jeep's engineers say it will also achieve better efficiency. Plus, I would speculate, better reliability.
What will we get in the US?
Only two of the Renegade's potential four-cylinder engines will be available in the US. Neither is new and sadly, neither is diesel. The 1.4-liter MultiAir Turbo engine from the 160 hp, 184 lb-ft of torque Fiat 500L will only ship with a 6-speed manual in 4x2 or 4x4 for the lower Sport and Latitude trim levels.
Renegade Limited will get the 2.4 Tigershark engine we've seen in the Chrysler 200 and Dodge Dart with 184 hp and 177 lb-ft, here paired with the nine-speed auto. The 2.4 is available in 4x2 or 4x4 as well, and the bigger four-banger is optional in Sport and Latitude trims.
Renegade Trailhawk will only be available with the 2.4, nine-speed auto, and a low-range equipped 4x4 featuring a 20:1 crawl ratio and Jeep's terrain-response control they call "Selec-Terrain" which adjusts suspension, traction control, and shift points accordingly between five types of terrain.
Jeep has no plans to bring a diesel Renegade to the US, mate the three-pedal to the bigger engine, or make a manual shift Trailhawk. But the mounting points are all there; an ambitious individual could certainly get creative mixing-and-matching powertrain parts, warranty be damned.
Can it off-road?
The 4x4 system in all Renegades except the Trailhawk is Jeep's "Active Drive" with a fully-automatic power take-off unit that disconnects the rear axle to improve fuel efficiency when four wheel drive isn't needed. Jeep promises engagement is instantaneous. The range-topping "trail rated" Renegade is full-time 4WD.
The factory specs regarding the Renegade's off-road abilities look promising. Some 8" of ground clearance is plenty for those spots where fire roads get washed out, and 19" of water fording should get you anywhere you'd want to be with a stock SUV.
For those who aren't "off-roading" until their wheels are completely submerged in mud or their axles are perpendicular, go find a CJ-7.
Based on what Jeep has presented on paper, the 2015 Renegade looks plenty capable of leaving the bitumen, bringing passengers to interesting places, and rocking roads marked "4WD ONLY." For most people's daily driver, not being able to do the Rubicon is a small price to pay for better fuel efficiency and some modern conveniences.
The 2015 Jeep Renegade is built from steel and composites that Jeep says underwent extensive computer-simulated impacts allowing them to fine-tune for "world-class" torsional stiffness.
The Renegade Trailhawk rides 20mm/0.8" higher than the other models, which have about 7.6" of total ground clearance, but Trailhawk's biggest off-road edge is that low-range crawler gear and Jeep's terrain-response system. The Trailhawk also has skid plates and red tow hooks... which I'm starting to sense are becoming the "red brake calipers" of the off-road world.
Towing capacity for US spec Renegades is a weak 2,000 pounds, and that's with a tow package on the 2.4. That gets you into light camping trailers, hobie cats, and in-town U-Hauls, but you better leave the powerboat at home.
What are the performance claims so far?
Speed and fuel economy has not been claimed yet. But for your bench-wheeling pleasure, here are the Renegade Trailhawk's off-road related specs:
Four-wheel independent suspension
205 mm/8.1" of wheel articulation
220 mm/8.7" of ground clearance
30.5º approach angle
25.7º degree breakover angle
34.3º degree departure angle
480 mm/19" inches of water fording
Koni frequency selective damping (FSD) front strut and rear shock absorber system
Electric power steering (EPS) combined with an driving steering torque (DST) system that directs power appropriately as it detects traction changes in turns.
Jeep Active Drive Low (20:1 crawl ratio)
Selec-Terrain pre-programed traction control system that adjusts shift points and traction control behavior based on terrain input selected by user
Hill-decent Control
Skid plates, and red front and rear tow hooks
17-inch all-terrain tires
Up to 1,500 kg (3,300-lb.) towing capability with MultiJet II diesel engine and 907 kg (2,000-lb.) towing capability with 2.4-liter Tigershark engine, with available tow package
What about upgrades?
Mopar has already got a list going of about a hundred parts and Jeep-emblazoned trinkets you can strap to your Renegade. Look forward to all kinds of racks, performance parts, and so forth.
As for aftermarket support, independent suspension will put some limitations on extreme lifts but I'm sure there will be plenty of bumpers, sliders, and light bars in short order.
What new and exciting technology should I care about?
A fully-electric steering system makes spinning the helm easier and modulates the power-assist curve based on driving conditions. Chrysler reckons this worth a 3% fuel economy improvement over a hydraulic power steering system. Plus, no power steering fluid leaks!
A completely new "direct steering torque" (DST) system actively controls oversteer, and is dialed in with the afore mentioned electric power steering to automatically compensate for torque steer and iinconveniences like the pull in crowned roads.
On top of that Jeep boasts "70 advanced safety features" in the 2015 Renegade; gadgets like collision warnings that activate brakes for you and lane-departure warnings that "assist the driver with corrective action" and steer you to safety. That's a lot of Orwellian robo-driving for a Jeep, but the road-going masses will probably be stoked and I can't wait to hear your thoughts on that in the comments.
How did Jeep come up with the design?
Jeep Renegade exterior designer Jeremy Glover says "the theme of this car is about personality; playful, fun, exciting, energetic." Yes when he said "car" he meant "Jeep," but I think the rest of his assessment is accurate. It looks modern and video-gamey while retaining some marquee heritage, thanks to that grille.
If the Jeep lineup was a family, Renegade would be Wrangler's little brother who likes to play in the rock gym but isn't quite tough enough to join big bro on a free-climbing trip.
I like it, even though it kinda looks like a Kia Soul. In fact, the Renegade's 101.2" wheelbase is the same as a Soul's, though the Jeep's body is 3.6" longer and it stands 3.5" taller. It's also slightly larger than another competitor; the Nissan Juke.
What's the interior like?
Inside the Renegade is a realm of "Tek-Tonic." That's not a dinosaur-themed cocktail, it's the codename Jeep has pinned on the design language of the Renegade interior. And let's hope Jeep cools it with all this "playful" stuff right about now.
What they mean with that silly name is the Renegade's interior is "defined by the intersections of soft and tactile forms with rugged and functional details." For example, the instrument panel is soft, the passenger grab-handle is hard. It's like a preschool up in there!
The air vent dominating the center console was inspired by sports googles. See it now? Yeah, kinda neat. Another easter egg is a topographical map of off-road mecca Moab, Utah molded into the rubberized tray behind the infotainment "media center," which features USB, aux inputs, and 12v power.
Chrysler's Uconnect infotainment system can be had in 5 or 6.5" touchscreen in the 2015 Jeep Renegade.
18.5 cu.ft. of interior storage space expands to 50.8 cu.ft. with rear seats folded flat, but the whole world opens up with that "My Sky" removable sunroof affair up top. Panoramic sunroofs are among my favorite features to proliferate on the automotive scene in the last few years, and this elaboration with "removability" is downright glorious. The roof panels are made of honeycomb fiberglass polyurethane and stow neatly into the vehicle's cargo area, which is key. If only that bar didn't have to break up the glass in the middle, damn structural rigidity requirements.
What colors will it come in?
Available exterior colors on the 2015 Renegade will be red, tan, green, blue, silver, black, white, and grey with obnoxious names like "Commando" and "Omaha." You'll be able to order any of those with a black accented roof, which sounds cool.
Interior colors are black, tan, black with red trim, or brown and grey. Or, in Jeepspeak:
Leave no trail behind is the "Trespass Black" monotone interior that is accented with our Moroccan sun finishes. This interior has contrast dual tone stitch colors to set one on a new path
A little grit, a whole lot of grind is the "Sand Surfing" Black and Warm Sand two-tone interior combination. This combination is highlighted with Satin Chrome accents and features an embossed cloth fabric that provides owners with a visual textural experience
Stake your ground is the "Trailhawk" Black monotone interior that features Ruby Red anodized finishes, Ruby Red stitched accents and a unique Trailhawk signature
When the sky isn't the limit is the "Free Falling" Bark Brown and Ski Gray two-tone interior combination with Orange details. The interior is bold with its Anodized orange finishes and the seats themselves will test the limits featuring a new look
How much is it and when can I get one?
MSRP starts around $17,000. 4WD will be a $2,000 option, meaning the Renegade could be your six-speed manual four-wheeler for under $20,000! The SUV is slated to go on sale in the US early 2015, it's already up for grabs in Europe.