Five years ago, you'd be hard-pressed to tell one Aston Martin model from another. But now the company's attacking the future full-on with EVs and SUVs while hanging on to manual transmissions and GTs. I sat down with Aston's Chief Engineer Matt Becker to hear all about it.

The Ford Taurus Is Reborn — But Only For the Middle East
Aston's CEO Andy Palmer has decreed that a new model or derivative will launch at least every nine months, each model must look suitably different to the next, and they have to drive for the segment they're designed for.
A couple of years back the DB11 launched to great fanfare, heralding in a new era for Aston Martin and the start of a new lineup. It's every inch the grand tourer it's supposed to be. More recently the new Vantage was launched to thunderous applause (it's really good, guys). As a dedicated sports car–it's harder edged, pointier to look at and sharper to drive than the DB11. Thank Matt Becker for some of this.
G/O Media may get a commission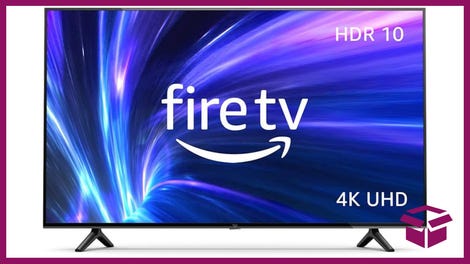 42% Off
Amazon Fire TV 50" 4K Smart TV
Becker is Aston Martin's Chief Engineer. Before that he made Lotus' cars go very quickly, so he knows a thing or two about things that are both British and fast. I had a chat with him to see what was in store for the future of Aston Martin. There's a lot, it turns out.
"The portfolio expansion we're entering now with DBX [SUV], Langonda [all electric sub-brand] as well, and working on a mid-engined supercar as well. So we're kinda covering all of the requirements in the marketplace." Not to mention the Valkyrie hypercar.
Oh, and a replacement for Vanquish?
"We're working on that at the moment," he said. "It's a very powerful, very fast car [with a smile]. So it's gonna be our kind of SuperGT car like the Vanquish was, or is at the moment. Obviously we've taken the DB11 and pumped it up effectively, to give it more performance from a powertrain point of view, but also more performance from the chassis as well so we'll push it to be less GT."
So far so promising, but then a tiny bombshell… "Wait 'til this thing. It's got so much torque and power." Being a human interested in things that go quickly the subject of numbers came up. 700 horsepower? Silence and a smile, though Becker did confirm it'll use a twin-turbo V12. 1000 nm (737.5 lb-ft)? "Not quite as much as that but not far off." Okay then.
"[The] new Vanquish will sit between DB11 and Vantage in terms of chassis feel, in terms of performance then it'll be off the scale. It's not just the amount of torque it delivers, it's where it delivers it–straight off the bat. We're going to have to do some torque management in some of the lower gears like Ferrari do. Otherwise, you end up with an unusable amount of torque."
We'll hear more about the Vanquish's next chapter soon enough it seems, but what about the rest of the lineup? It's already been refreshed, yet it seems there's still much to do. The DB11 V8 seems to be having a wider influence on the range.
"We had a lot of learning from V8 which we wanted to put back into V12… I'd say that chassis on V8 is better than V12. Small changes were made with rear bushings, damping, software, and we wanted the ability to put that into DB11. These updates will be rolled in to that car."
Will it get a power boost? "A little bit, people always want more."
GTs are one thing, but the Vantage is the star of the moment. Its new 4.0-liter twin turbo motor is all cool with the ZF 8-speed automatic attached, but didn't Andy Palmer say that Aston Martin is going to be sticking with the manual 'box for as long as possible?
No sign of it just yet, but thankfully Becker knows the future, and the future is low volume and shifts its own damn gears.
"[The manual is coming] in a year's time. We have development cars around us now which we're using. The difference that car won't come with an E-diff, it'll come with a mechanical diff. Fundamentally because the cost, complexity and time it takes to engineer the E-diff you need the volume of cars to be able to do that and manual will probably be 300 cars a year I'd have thought."
An electric differential doesn't need to rely on gearboxes or clutches to do the work of shuffling power to the right places, instead it has a motor at each wheel to sort it that out, all attached to an electronic brain. E-diffs are quicker to respond and easier to fiddle with so long as you have the right brains tackling the problem. A mechanical limited slip differential, though, will suit the stick shift Vantage down to the ground as the purist's choice.

So it's coming soonish and in low numbers–Many people want a manual, but few ever really stump for them after all. Becker continued: "There obviously has to be business case for it otherwise you end up busy fools, but Andy was quite clear when he arrived. He wants to have a manual as long as possible within the marketplace. And that's why we're doing it… This engine doesn't come with a manual gearbox, so we've had to reengineer it. It's not as simple as just shoving a manual transmission on it. It's quite [a] complex development job. It'll be purely a Vantage thing. DB11 is not that sort of car."
Manual vs. auto sales figures are always difficult reading for people who love themselves a stick shift, but they make sense when you think about it. Autos have been faster than the average gear-rower, generally speaking, for some time. A car with a manual transmission may be more engaging, but it's also probably slower and thirstier. Is that what we'll get with the manual Vantage?

"Yes I would say so, yeah. I think the manual will be slightly lighter because the gearbox is lighter. It will be the purer car because it'll be manual, have a mechanical diff rather than an E-diff. The chassis will be tuned around the gearbox as well–if you're reducing mass of the car you have to go around the car and retune the chassis to suit that. And because we're going mechanical diff over E-diff you don't have the power of the E-diff so you have retune the chassis to suit a mechanical diff. It's a big job."
It'll be for the likes of "us" then, who put a lot of stock in the way a car feels, but what about Aston's recent foray in to electricity? The Lagonda name is coming back to be the EV for the thinking type. It's early days yet, but it's looking pretty good.
"The vision for that car is very close to the concept car you saw at Geneva. We've been benchmarking S-Classes, Teslas, A8Ls, Rolls-Royces. We have a lot of benchmark information around us now. The RapideE, which comes out next year, is very much a learning exercise for Aston in terms of how to do electric cars. All that knowledge and data will be fed in to Lagonda."
Building an EV obviously isn't as simple as 'take the engine out and throw in an electric motor. Nissan, while developing the Leaf, discovered it needed to build a new, quieter, wiper motor because you could hear the regular one in the cabin. For EVs, and luxury outfits like Aston Martin especially, details count.
"At the moment we're going through concept benchmarking… We're evaluating the balance between performance and range and the target for range is 400 miles. In terms of the target for top speed… I can't really disclose that right now."
Becker revealed that the midengined supercar is at a similarly early stage in its development, though it'll be looking firmly at the Ferrari 488 as a target. He added: "I have quite a lot of experience in mid-engined cars thanks to my previous job."
Aston recently hired McLaren's former Chief Test Driver Chris Goodwin as its new Expert High Performance Test Driver. Goodwin brings years of McLaren experience with him from MP4-12C to P1 and beyond, so Aston's got itself some good hands behind the wheel.
It seems things are looking pretty decent for Aston Martin. The company is making money, it's hiring brilliant people to build some pretty outstanding cars, and it's branching into different avenues at speed while hanging on to some things we love about its classics.
Aston Martin's team seems intent on taking Aston from 'small British GT company' to 'global super luxury mega power.' With all the cars coming from them it's going to be a wild ride getting there.