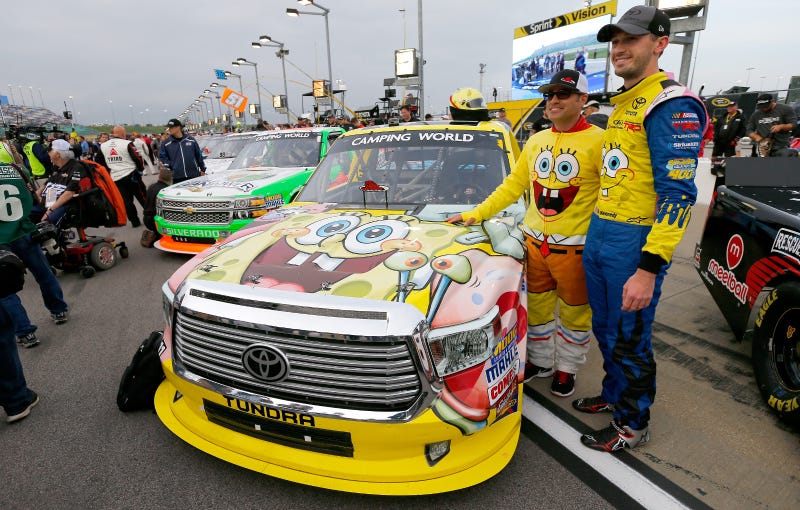 Everyone knows I'm partial to cartoon liveries, but surely there's other shows we'd like to see on a race car that aren't old Cartoon Network shows or SpongeBob SquarePants. Tell us: which show have you binge-watched over the holida—err, um, would you like to see on a race car?

Today is NASCAR Camping World Truck Series driver Ben Kennedy's birthday, so naturally, NASCAR whipped out a photo from when Kennedy's Local Motors Toyota ran an unexpectedly awesome SpongeBob SquarePants livery and went all-out in theme.

Out of all the cars that displayed Nickelodeon's nautical nonsense, this truck was among the best. Not only did crew chief Scott Zipadelli dress up as SpongeBob himself, but Kennedy's racing suit also featured SpongeBob's sidekick Patrick Star on the back.

Sure, SpongeBob SquarePants made an appearance on a Protoype Challenge car at this year's Rolex 24 at Daytona and on Bubba Wallace's NASCAR Xfinity Series car, too, but it took a race-truck to really embrace the theme.

I mean, look what they did with the bed, for Squidward's sake. I can't help but to giggle a little when I see this thing.
So, provided that a team would go all-out on a livery like this, which TV show (cartoon or otherwise) would you like to see on a car?

Personally, I think Bob's Burgers is begging for this treatment—and major bonus points if it's the butts episode. We need to see a crew member in Louise Belcher's pink bunny ear hat, too.

Photo credits: Getty Images

---
Contact the author at stef.schrader@jalopnik.com.