There are hundreds of new car models for sale today, and in 2022 it's pretty hard to find a truly bad car to come new from the factory. But, just just because a new car isn't technically bad, doesn't mean you have to like it.
That brings us to today's question: What is your least favorite car for sale today? It can be for any reason – trivial, technical or just because you're tired of looking at it. We don't want what you think the worst car is – because who knows – you make like it even though it's the worst. I'm not here to yuck on your yum.
Maybe you hate the Dodge Challenger because it's too loud, or the Mitsubishi Mirage because it's too basic or what about the BMW M4 because of its, uh, interesting grille. Point is: you can dislike a car for just about any reason.
On the subject of reasons, please actually include one. It's no fun if you write "Ford Bronco" but don't tell the class why you dislike the Bronco. Just writing the name of the car is boring as hell. You are absolutely better than that. You're a Jalopnik commenter – the cream of the crop, the best of the best. This is show AND tell – not just show.
Will you be judged for your submission by the Jalopnik community as a whole as well as myself? Almost definitely, but a little debate never hurt anybody.
G/O Media may get a commission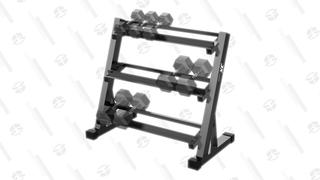 20% Off
JX Fitness Dumbbell Rack
Gains but tidy
Has a three-tier design to help store more weights more conveniently, can safely support up to 1000lbs of weight, which should be enough for most people, has a triangle base for stability, and also features anti-scratch feet which is great if you've built your own studio or workout in your garage.
That being said, if you say the Dodge Challenger or Charger are your least favorite cars for sale today, I may or may not have to ban you from the site. I don't make the rules, I just enforce them.
See all you cool cats down below.