I'm in the market for a new (not used) car. Winter is approaching quickly and I would really like something with all-wheel-drive or 4-wheel-drive. I would prefer something on the smaller side with decent gas mileage. I have a max budget of $20,000 (before taxes and fees).
This is not an easy segment to shop in, but automakers like Honda and Mazda are realizing that folks want affordable AWD compacts. However the HR-V and CX-3 won't be available for some time. So if you are in need of something small and cheap that can get you through the winter right now, there are a few solid values.
Before I go any further, I must disclose that having an AWD/4WD vehicle in the winter will not make you invincible because your traction is only as good as your tires. Regardless of your driven wheels, I strongly suggest investing in an extra set of wheels and tires that you can swap on when the temperature drops. Keep in mind that "winter tires" are not just meant for the snow and ice, but their rubber compound is designed to grip better on colder surfaces even when dry. So know that you are going to get yourself a winter wheel/tire set, your AWD/4WD vechicle should do pretty well.
G/O Media may get a commission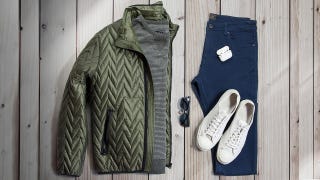 60% off
Jachs NY Fall Sale 60% Off
Avoid Cheap Jeeps Like The Patriot And Compass
Jeeps are rugged, off-road, 4 wheel-drive legends, right? Certain vehicles like the Wrangler and Cherokee have that reputation, but with a sub 20k budget your only choices are the Patriot and Compass. While you can get either one of these brand new well within your budget, neither car was Jeep's best effort in terms of making an affordable 4WD machine. Both of them are due to be replaced by the upcoming Renegade, that should be a great mini off-road runabout. However, the Renegade is not due to hit showrooms until sometime early 2015.
The Mitsubishi Lancer And Outlander Will Give You Almost An Evo
If you fancy yourself a wannabe rally driver you are probably familiar with the legendary Lancer Evolution. Of course you could pick up a pre-owned Evo, but my guess is you want something with a warranty that hasn't been hooned to death. The good news is Mitsubishi has some affordable options in the way of the Evo's relatives. First up is the Lancer SE AWC. Many shoppers weren't even aware that the base Lancer sedan was available with a selectable all-wheel-drive system. Even though the MSRP is $21,805, if you shop carefully you find ones for under $18,000.
Also available is the Lancer's much easier to find crossover cousin the Outlander Sport, that can be easily had for under $20k. Both Mitsus offer a decent amount of punch and are a solid value for the equipment and long warranty, but their antiquated CVT often ruins the fun.
The Rogue Select And Juke Are Frumpy And Funky Nissans
The all new Nissan Rogue is a sharp looking car with some great features, it is a huge improvement over the previous generation. However, for some reason Nissan is keeping the old Rogue around and calling it the Rogue Select. It isn't bad little crossover, it's just not exiting. The good news is you can find numerous AWD examples well within your budget.
Now if you wanted something a little different and fun to toss around, the Nissan Juke with it's torque vectoring AWD system make this hatch/crossover thingy an enjoyable commuter. The downside to the Juke's punchy turbo motor is the gas mileage is not great considering it's size.
The Subaru Impreza, Granola Is Good For You
When most folks think of the best car brand for winter driving, Subaru immediately comes to mind. Subaru's combination of horizontally opposed engines and symmetrical AWD systems make them sturdy and stable when the white stuff covers the roadways. While most of Subaru's lineup is above the $20,000 threshold, you can pick up a minimally equipped Impreza sedan for just under $19,000. The Impreza also gets the best gas mileage of the bunch at 34mpg if you can tolerate the CVT, however, if you prefer to row-your-own, a 5 speed manual is available.
Of course, with any of these selections you want to take a broader look at your car buying needs and not just focus on one thing. Also keep in mind that even with a good set of snow tires and all-wheel-drive, sometimes it's best just to stay home.
If you have a question, a tip, or something you would like to to share about car-buying, drop me a line at AutomatchConsulting@gmail.com and be sure to include your Kinja handle.
(Top image: Getty)