Recently, Honda seems to have woken up from the torpor that comes along with bloating every car in its lineup and realized that it somehow stopped making genuinely small cars. The Civic ballooned up to Accord size, so they brought over the Fit. Now they realized how big the CR-V has gotten, so they're giving us the HR-V. Thanks!
The new HR-V (the name stands for Hi-rider Revolutionary Vehicle. not Horse Rectum-Vagina as previously reported by Motorballs) is actually a name that Honda has used for a number of small SUVs over the years, just never in the US. The 2015 HR-V is based on the Fit platform, and has been sold in Japan already as the Vezel, where it's so wide they think it's a luxury car, and it's taxed as such. I hear they use old spools of thread for tables and hang postage stamps on their wall for posters in that tiny, tiny land.
G/O Media may get a commission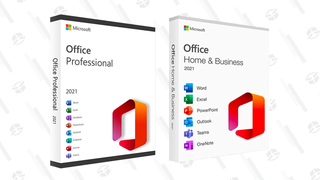 89% off
Microsoft Office Professional 2021 Lifetime License
Really, though, the size seems completely reasonable. It doesn't seem too big or too small. It's a very usable, inside and out. With the rear seats folded, there's a good-sized cargo area, and the front and rear seats feel plenty roomy – to the point that I'm sort of wondering just how much more room you'd really get in a CR-V.
The dash of the HR-V seems to be composed entirely of illuminated, capacitive-touch controls. I'm sort of assuming this, because the HR-V I sat in at the show was off, and it's either that or the little SUV has no HVAC or other controls at all. There's a good number of useful pockets and cubbies, including a clever drink holder that can switch between low volume drink holders and nice, massive, US-DOT approved bladder-buster sized cups.
The center console up front is one of those open-below designs, and has a little set of plugs in the lower area: USB, HDMI, another USB, and a 12V power jack. The HDMI is an interesting addition, since it suggests you can connect your XBox or Wii U or PS4 or properly adapted Laserdisc player to the center-dash LCD screen.
From the outside, I think the HR-V works best in profile, where there's some nice, swoopy sculpting on the body panels that arc up pleasingly into the C-pillar, which also hides the rear door handle in a neat little triangle. The front and rear faces I think are okay at best, reasonably attractive but enough like so many other designs out there today that you'd probably have trouble picking it out of a lineup.
The HR-V design is clearly designed to be the least offensive of this segment; interesting enough to not be too bland, but not as funky as a Juke, as stylized-rugged as a Renegade, or has the potential driving chops of the CX-3. Honda wants this to be a volume seller, and, if you think about it, it's sort of the perfect volume-selling formula for where we are on the eve of 2015.
There's not a whole lot of technical information about the car just yet, but we can look at the Vezel and see some probable options. My guess is the four-banger in there is the 1.5L unit making about 130 HP or so. Excitingly, a manual option is expected here, along with either Honda's 7-speed dual-clutch auto or maybe a CVT. I'm guessing the 7 speed is more likely here.
The engine also thankfully lacks one of those stupid plastic engine covers, which is refreshing.
I feel like this is the sort of car that will just kind of fill out the background of our daily driving lives, after a while. It'll be priced below the CR-V, it has the good name and reliability of a Honda, it's reasonably flexible and useful, it has all-wheel drive for all those people who have somehow convinced themselves they need that, and they'll sell a crapton of these.
So, I guess we may as well get used to them.