The 2017 Dodge Challenger GT AWD has been out for some time now, but this week I finally wrangled one into Jalopnik's California garage and am heading to the mountains to find out what this giant two-door 4x4 is really made of.

Okay, maybe we won't really take Mopar's gargantuan bachelormobile rock crawling, but we'll at least run it through some potholes and some sandy beach parking lots to see if this traction system is half decent.
Our V6 automatic test car rings up at about $41,000 with a few grand worth of tech toys and a sunroof, which is generously sized. It also has 235/55R19-sized tires, which look as skinny as shopping cart wheels below the Challenger's expansive ass, and, to my surprise, launch control.
I guess the foul-weather version still has to be a Challenger.
After a few laps through my regular "commute" I can report that the car feels about as long as the Mercedes GLS SUV I also drove recently and its all-season tires are pretty easy to chirp. I can already see why these cars are so popular. It just, kind of, feels cool to be in.
G/O Media may get a commission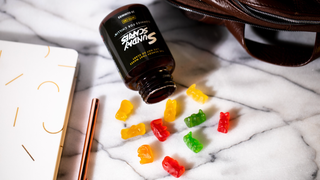 10mg CBD Gummies (22-Count)
The window sticker says the car's capable of 27 mpg on the highway and 18 in the city. At standard Los Angeles speed, I'm averaging 10.7 so far.
So what else do you want to know about this four-season muscle car?