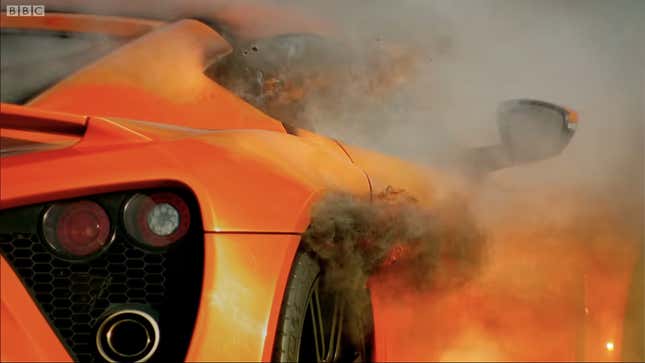 As car fans, we've watched hundreds of hours worth of automotive reviews and videos on YouTube. Most of the time, those videos are fairly incident free, but every once in a while things go wrong. In all honesty, those whoopsies can lead to some rather excellent content, which also leads us to today's question.
We want to know the worst car review moments you've come across. When did something go wrong in a video made by your favorite content creator? Think of stuff like Jeremy Clarkson sending a log through the back of his BMW 5-Series wagon or that time that Jalopnik crashed a Camaro on track (we are still very sorry about this). Stuff that goes well is boring. We love a good disaster, like that time a car Top Gear was testing caught fire on their track.
I don't want to give away too many examples. After all, it's your job to give me the answers. That's how this whole thing works. What would be the point if the roles were reversed?
Anyway, drop down below and link us to the videos of what you consider to be some of the worst car review moments on the internet. I will give you 1,000 bonus points if you tell us why you feel this way. Posting a video clip with no explanation is flavorless. I want to know what you folks are thinking!