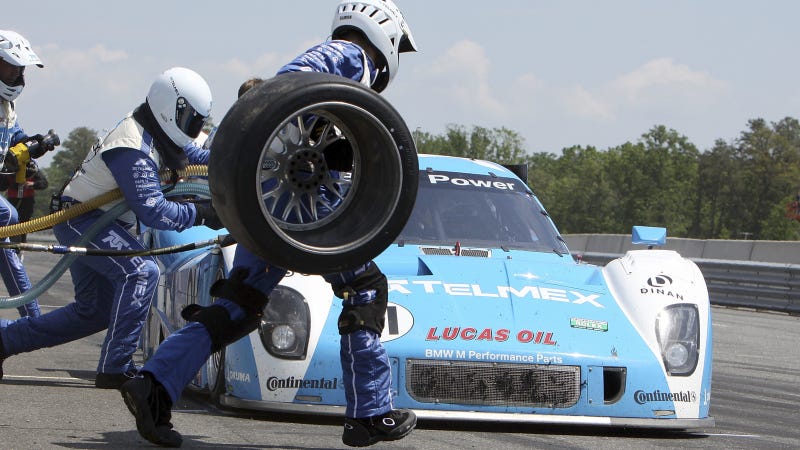 Welcome to the Jalopnik Weekend Motorsports Roundup, where we let you know what's going on in the world of racing, where you can see it, and talk about it all in one convenient place. Where else would you want to spend your weekend?
Formula One and FIA World Endurance Championship are taking the weekend off, but there's some really awesome stuff on tap anyway for all you racing fans out there. Four words: Petit Le Mans, y'all. Also, NASCAR's chilling in Kansas City this weekend and MotoGP will be live from Malaysia, but you have to wake up ass-early for that on Sunday.
Also, the World Rally Championship's Rally Italia Sardegna is this weekend. You can wait until Sunday night to see the highlights, or you can probably find it online. I tried looking for a decent livestream Friday night but came up empty. If you have one, help out your fellow Jalops and post it in the comments! Your nation will be forever grateful!
Photo credit Getty Images.
All times Eastern.
Saturday, October 20
NASCAR Sprint Cup Hollywood Casino 400 Practice
Kansas Speedway
Kansas City, Kansas
11 a.m. on ESPN2
American Le Mans Petit Le Mans
Road Atlanta
Braselton, Georgia
11:30 a.m. Streaming online at ESPN3
Also 1 p.m. Sunday on ABC
Playboy Mazda MX-5 Cup Round 8 at VIR
Virginia International Raceway
Danville, Virginia
12 p.m. on Velocity (Not live; race from Sept. 15)
NASCAR Nationwide Cup Kansas Lottery 300
Kansas Speedway
Kansas City, Kansas
3 p.m. on ESPN
AMA Supercross Monster Energy Cup
Sam Boyd Stadium
Las Vegas, Nevada
10 p.m. on SPEED
(Of course the Supercross Cup is named for Monster Energy Drink...)
Sunday, October 21
MotoGP World Championship Malaysian Motorcycle Grand Prix
Sepang International Circuit
Sepang, Selangor, Malaysia
4 a.m. on SPEED
NASCAR Sprint Cup Hollywood Casino 400
Kansas Speedway
Kansas City, Kansas
2 p.m. on ESPN
DTM German Touring Car Racing Round 10
Hockenheimring
Hockenheim, Germany
7:45 p.m. on SPEED2
World Rally Championship Rally Italia Sardegna Highlights
Porto Cervo, Sardinia, Italy
11 p.m. on SPEED