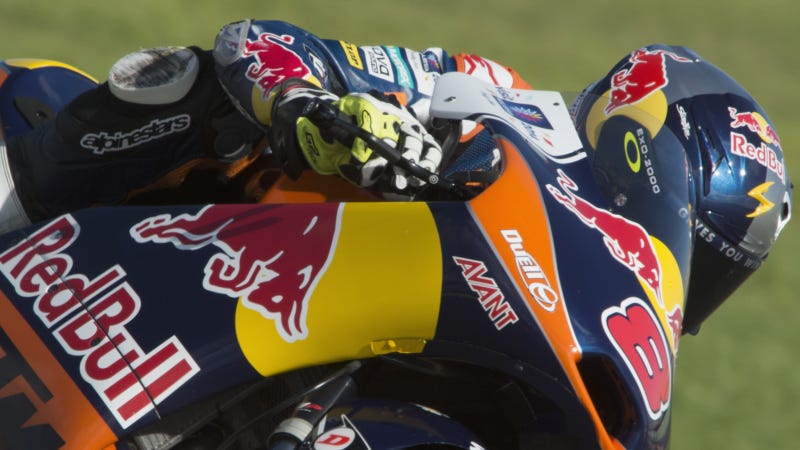 Welcome to the Jalopnik Weekend Motorsports Roundup, where we let you know what's going on in the world of racing, where you can see it, and where you can talk about it all in one convenient place. Where else would you want to spend your weekend?
This weekend, we've got MotoGP, Formula One and NASCAR all vying for your attention.
Marc Marquez and Honda are likely to continue their domination of MotoGP this weekend, with Marquez posting the fastest time in qualifying, but who cares? Suzuki is back! Randy de Puniet will be piloting a Suzuki GSX-RR as a wild card entry this weekend, making this Suzuki's first MotoGP appearance since 2011.
NASCAR's Chase for the Sprint Cup championship is heating up after last weekend's brawl. We're down to the very last two races. Chase contender and source of much fighting Brad Keselowski is in "sorry, I'm not sorry" mode, in remarks reported by USA Today:
We all have our own biases. It's not really productive to get into the he said, she said. At end of the day, we disagree.

The more I dig into becoming what someone else wants me to be, the less I stay who I am. And who I am is someone who can win races and be a championship threat year over year with a great team who supports me and has a great cast of family and friends. I'm not looking to become what everyone else wants me to become.
He's clearly not into playing the political side of NASCAR to win the favor of other drivers.
Keselowski is at the bottom of the Chase standings, just above Kevin Harvick in seventh place. Carl Edwards and Matt Kenseth also face elimination if they are unable to jump ahead of the top four in points. Four of the eight remaining drivers will be eliminated after Sunday's race.
We're just glad it's a daytime race. The Camping World Truck Series race at Phoenix had to be called early because of repeated power issues with the track's lighting. Sticker headlights don't exactly work in the dark.
Formula One's silly season goes into high gear now, with Brazil as the second to last race of the season. Will someone who's not a Mercedes win for a change? Or will Hamilton increase his lead over Rosberg, making that gimmicky double-points race at the end of the season matter less?
No one's officially confirmed Alonso to McLaren yet, as the two McLaren drivers aren't even sure who's staying for next year. At this point in the season, the off-track commentary is almost as entertaining as what's happening in the race itself. So much is still up in the air right now.
If you know about anything we missed, or about good livestreams out there, let us know in the comments below.
All times below are EST.
Formula One Brazilian Grand Prix Qualifying
Autódromo José Carlos Pace (it's still Interlagos to pretty much everyone, guys)
São Paulo, Brazil
11:00 AM Saturday on CNBC (replay at 12:30 PM Saturday on NBCSN)
---
NASCAR Sprint Cup Quicken Loans Race For Heroes 500 Practice 2

Phoenix International Raceway
Avondale, Arizona
11:30 AM Saturday on FS2 (replay 11:00 AM Sunday on FS2)
---
NASCAR Nationwide Series DAV 200 - Honoring America's Veterans Qualifying
Phoenix International Raceway
Avondale, Arizona
12:30 PM Saturday on FS2
---
NASCAR Sprint Cup Quicken Loans Race For Heroes 500 Final Practice

Phoenix International Raceway
Avondale, Arizona
2:30 PM Saturday on FS2 (replay 12:00 PM Sunday on FS2)
---
NASCAR Nationwide Series DAV 200 - Honoring America's Veterans

Phoenix International Raceway
Avondale, Arizona
4:00 PM Saturday on ESPN
---
MotoGP Gran Premio Generali de la Comunitat Valenciana
Circuito de la Comunitat Valenciana Ricardo Tormo
Cheste, Valencia, Spain
7:30 AM Sunday on FS1 (replay at 10:00 PM Sunday on FS2)
---
Formula One Brazilian Grand Prix

Interlagos
São Paulo, Brazil
11:00 AM Sunday on CNBC (replays 1:30 PM Sunday on NBC and 4:00 PM Sunday on NBCSN)
---
NASCAR Sprint Cup Quicken Loans Race For Heroes 500

Phoenix International Raceway
Avondale, Arizona
3:00 PM Sunday on ESPN
---
MotoGP Moto3
Circuito de la Comunitat Valenciana Ricardo Tormo
Cheste, Valencia, Spain
8:00 PM Sunday on FS2
---
MotoGP Moto2
Circuito de la Comunitat Valenciana Ricardo Tormo
Cheste, Valencia, Spain
9:00 PM Sunday on FS2
---
Photo credit: Getty Images