Welcome to the Jalopnik Weekend Motorsports Roundup, where we let you know what's going on in the world of racing, where you can see it, and where you can talk about it all in one convenient place. Where else would you want to spend your weekend?
Everything's happening in Texas. Well, except the 6 Hours of Shanghai. That's not in Texas. Anyway, if you want lunacy in motorsports, we've got it.
Formula One makes its only appearance in the United States, but without its two newest teams. Now there are wild rumors flying around about a possible Force India, Sauber and Lotus walk-out on the race, as the smaller teams feel shafted financially by the FIA's preference towards the larger teams. In Formula One this year, the haves keep on havin', and the have nots are at risk of disappearing from the grid entirely.
G/O Media may get a commission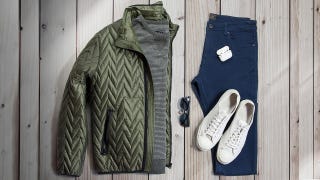 60% off
Jachs NY Fall Sale 60% Off
The three teams are carefully downplaying the threat of a boycott, so I hope that for the weekend's sake, it doesn't happen. I'm also having trouble finding any specific mentions of one besides "here are some random quotes on costs from the smallest teams," so there's that as well. For now, thankfully, it sounds like a crazy rumor the Brit-pubs threw together from random quotes. No one wants a repeat of the last Indianapolis race. Nope.
If it isn't a crazy rumor, uh...at least Porsche Supercup is really great.
Things are heating up for the Chase for the Sprint Cup up at Texas Motor Speedway. Well, sort of. A non-Chaser stands a good chance at winning, given that the Chase has eliminated quite a lot of talent this year.
That being said, Brad Keselowski was the only Chaser to fail to make it to the second round of qualifying. He'll start 26th in this weekend's race. Oops!
Scheduling two events in Texas on the same weekend is bad enough. Although F1 appears to be as crowded as usual, there's more overlap between F1 and NASCAR's fanbase than many like to admit. But oh, no. We've got them scheduled on top of each other on TV, too.
The World Endurance Championship moves on to China this weekend as well, bringing an American team with them for the first time. Extreme Speed Motorsports will be duking it out in LMP2 for America. Unfortunately, the only way to follow that is the paid WEC stream online. The race starts at 11 PM EDT on Saturday.
If you know about anything we missed, or about good livestreams out there, let us know in the comments below.
All times below are EDT until 2:00 AM on Sunday. Then EST kicks in, so remember to set back your clocks (or simply get an extra hour of sleep).
NASCAR Sprint Cup AAA Texas 500 Practice 2
Texas Motor Speedway
Fort Worth, Texas
11:00 AM Saturday on FS1 (replays at 11:00 PM Saturday on FS2 and 10:00 AM Sunday on FS2)
---
NASCAR Nationwide Series O'Reilly Auto Parts Challenge Qualifying
Texas Motor Speedway
Fort Worth, Texas
12:00 PM Saturday on FS2
---
Formula One United States Grand Prix Qualifying
Circuit of the Americas
Austin, Texas
1:00 PM Saturday on NBC (replay at 1:00 AM Sunday on NBCSN)
---
NASCAR Sprint Cup AAA Texas 500 Final Practice

Texas Motor Speedway
Fort Worth, Texas
2:00 PM Saturday on FS2 (replays at 12:00 AM Sunday on FS2 and 11:00 AM Sunday on FS2)
---
NASCAR Nationwide Series O'Reilly Auto Parts Challenge

Texas Motor Speedway
Fort Worth, Texas
3:30 PM Saturday on ESPN
---
FIM Superbike Superpole
Losail International Circuit
Doha, Qatar
10:00 PM Saturday on beIN Sports
---
NHRA Toyota Nationals Qualifying
The Strip At Las Vegas Motors Speedway
Las Vegas, Nevada
3:00 AM Sunday on ESPN2 (replay at 1:00 PM Sunday on ESPN2)
---
FIM Superbike World Championship

Losail International Circuit
Doha, Qatar
11:55 AM Sunday on beIN Sports (replay at 11:00 PM Sundayon beIN Sports)
---
NHRA Toyota Nationals

The Strip At Las Vegas Motors Speedway
Las Vegas, Nevada
2:00 PM Sunday on ESPN3.com (replay at 6:00 PM Sunday on ESPN2)
---
NASCAR Sprint Cup AAA Texas 500

Texas Motor Speedway
Fort Worth, Texas
3:00 PM Sunday on ESPN
---
Formula One United States Grand Prix

Circuit of the Americas
Austin, Texas
3:00 PM Sunday on NBC
---
Blancpain Sprint Series Baku World Challenge
Baku Street Circuit
Baku, Azerbaijan
5:00 PM Sunday on CBSSN