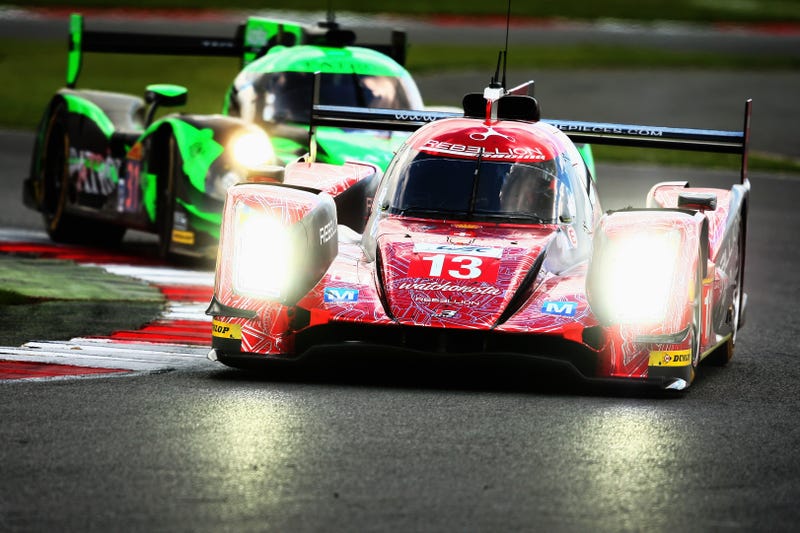 Welcome to the Jalopnik Weekend Motorsports Roundup, where we let you know what's going on in the world of racing, where you can see it, and where you can talk about it all in one convenient place. Where else would you want to spend your weekend?

The live-racing schedule isn't as packed this weekend as it has been, but there is certainly enough to keep anyone entertained. On top of that, the tape-delayed schedule is full. Get excited.
The FIA World Endurance Championship will run its second race of the season on Saturday in Belgium. Last time the cars were on track was for the 6 Hours of Silverstone, and the race had an unusual amount of carnage in the series' top LMP1 class. Of the nine LMP1 cars entered, only four of them topped the overall results at the end of the race.
The NASCAR Camping World Truck Series returned to the track on Friday night, with William Byron taking the victory at Kansas Speedway. The Xfinity Series is off this weekend, but the Sprint Cup Series will run the GoBowling 400—perhaps one of the best race names on the schedule—on Saturday night.
For the motorcycle fans, both Monster Energy Supercross and MotoGP will be on as well over the next two days. As we've all become accustomed to, coverage from MotoGP's Monster Energy Grand Prix of France is on BeIN. Times on the schedule below are via the BeIN website.
The Blancpain GT Series Sprint Cup will have a YouTube live stream on both Saturday and Sunday, and keep in mind that each showing has a different link below.
As for the tape-delayed coverage, you can catch the Pirelli World Challenge, American Sprint Car Series, Lucas Oil Modified Series, Lucas Oil Late Model Dirt Series, FIA World Rally Championship, NHRA, Monster Jam, DTM, Red Bull Air Race, Continental Tire SportsCar Challenge and the Lucas Oil Off-Road Racing Series this weekend.
If you know of any other events or live streams going on this weekend, please feel free to share in the comments below.
All times EST.
Saturday
---
MotoGP World Championship: Monster Energy Grand Prix de France
5:20 a.m. — Qualifying on BeIN
8 a.m. — Moto2 qualifying on BeIN
---
Pirelli World Challenge: Grand Prix of Birmingham at Barber Motorsports Park in Leeds, Alabama

6 a.m. — Race (delayed) on CBS Sports Network
11 a.m. — Race (delayed) on CBS Sports Network
1 p.m. — Race (delayed) on CBS Sports Network
6:30 p.m. — Race (delayed) on CBS Sports Network
---
NASCAR Sprint Cup Series: GoBowling 400 at Kansas Speedway in Kansas City, Kansas
6:30 a.m. — Qualifying (delayed) on Fox Sports 1
7 p.m. — NASCAR RaceDay on Fox Sports 1
7:30 p.m. — Race on Fox Sports 1
---
FIA World Endurance Championship: 6 Hours of Spa-Francorchamps at Circuit de Spa-Francorchamps in Belgium
8:30 a.m. — Highlights on Fox Sports 1
11:30 a.m. — Coverage on Fox Sports 2
---
American Sprint Car Series: Devil's Bowl Winter Nationals at Devil's Bowl Speedway in Mesquite, Texas

10 a.m. — Race (delayed) on MAVTV
1 p.m. — Race (delayed) on MAVTV
7 p.m. —Race (delayed) on MAVTV
10 p.m. —Race (delayed) on MAVTV
---
Blancpain GT Series Sprint Cup: Brands Hatch in Kent, England
12 p.m. — Qualifying via live stream (other showings have different links)
---
Lucas Oil Modified Series: Fast Orange 75 at Irwindale Speedway in Irwindale, California
4 p.m. — Race (delayed) on MAVTV
---
Lucas Oil Late Model Dirt Series: East Bay Raceway Park in East Bay, Florida
5 p.m. — Race (delayed) on MAVTV
---
Monster Energy Supercross: Sam Boyd Stadium in Las Vegas, Nevada
10 p.m. — Coverage on Fox Sports 2
11 p.m. — Coverage on Fox Sports 1
---
Sunday
---
FIA World Rally Championship: Rallye Monte-Carlo
1 a.m. — Coverage (delayed) on MAVTV
---
American Sprint Car Series: Devil's Bowl Winter Nationals at Devil's Bowl Speedway in Mesquite, Texas

2 a.m. — Race (delayed) on MAVTV
---
NASCAR Sprint Cup Series: GoBowling 400 at Kansas Speedway in Kansas City, Kansas
3 a.m. — Race (delayed) on Fox Sports 1
---
FIA World Rallycross Championship: World RX of Hockenheim at Hockenheimring in Hockenheim, Germany
3 a.m. — Coverage on BeIN
7 p.m. — Coverage on BeIN
---
Lucas Oil Late Model Dirt Series: East Bay Raceway Park in East Bay, Florida
4 a.m. — Race (delayed) on MAVTV
---
MotoGP World Championship: Monster Energy Grand Prix de France
5:15 a.m. — Moto2 race on BeIN
6:30 a.m. — MotoGP race on BeIN
12:30 p.m. — MotoGP race on BeIN
8 p.m. — MotoGP race on BeIN
10 p.m. — Moto3 race on BeIN
---
Blancpain GT Series Sprint Cup: Brands Hatch in Kent, England
7 a.m. — Qualifying race via live stream (other showings have different links)
11:20 a.m. — Race via live stream (other showings have different links)
6:30 p.m. — Race (delayed) on CBS Sports Network
---
NHRA: SpringNationals at Royal Purple Raceway in Houston, Texas

7 a.m. — Sportsman Series coverage (delayed) on Fox Sports 1
---
Continental Tire SportsCar Challenge: Monterey Grand Prix at Mazda Raceway Laguna Seca in Salinas, California
8 a.m. — Race (delayed) on Fox Sports 1
---
Monster Jam: International Tour
10 a.m. — Event (delayed) on Fox Sports 1
9 p.m. — Event (delayed) on Fox Sports 2
---
Lucas Oil Off-Road Racing Series: Challenge Cup at Lucas Oil Off Road Park in Lake Elsinore, California
2 p.m. — Pro 4 and Pro 2 races (delayed) on MAVTV
5 p.m. — Pro 4 and Pro 2 races (delayed) on MAVTV
---
Pirelli World Challenge: Grand Prix of Birmingham at Barber Motorsports Park in Leeds, Alabama
3:30 p.m. — Race (delayed) on CBS Sports Network
---
DTM: Hockenheimring in Hockenheim, Germany
4:30 p.m. — Race (delayed) on CBS Sports Network
---
Red Bull Air Race: Spielberg, Austria
6 p.m. — Coverage (delayed) on Fox Sports 1
---
Lucas Oil Off-Road Racing Series: Round 1 at Wild Horse Pass Motorsports Park in Chandler, Arizona
8:30 p.m. — Pro 4 and Pro Buggy races (delayed) on CBS Sports Network
---
FIM Motocross: MXGP of Germany in Teutschenthal, Germany
9:30 p.m. — MXGP race (delayed) on CBS Sports Network
10:30 p.m. — MX2 race (delayed) on CBS Sports Network
---
Monster Energy Supercross: Sam Boyd Stadium in Las Vegas, Nevada

10 p.m. — Coverage (delayed) on Fox Sports 2
---