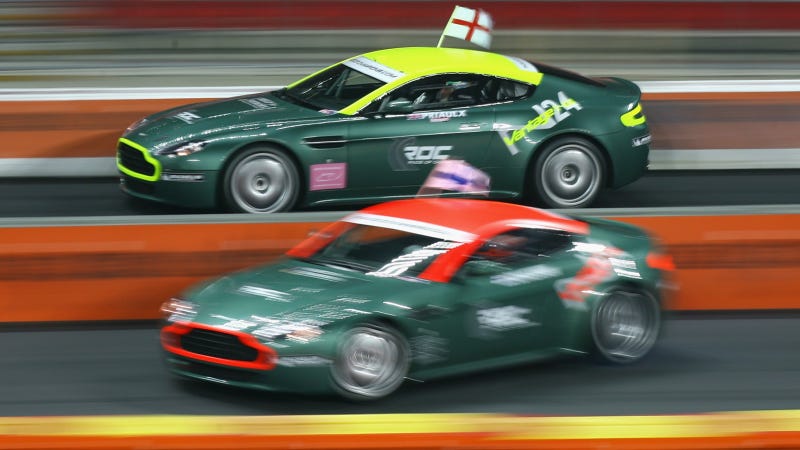 Welcome to the Jalopnik Weekend Motorsports Roundup, where we let you know what's going on in the world of racing, where you can see it, and talk about it all in one convenient place. Where else would you want to spend your weekend?
What's going on this weekend? The Race of Champions is what's going on, and it's gonna be amazing! In case you missed it, you have to check out our own Mike Spinelli's rundown of the history of the race and how awesome it is. He even told you what cars will be put through their paces during the race as well.
And because we love you guys so much at Jalopnik, we'll be streaming the race here tonight for your viewing pleasure. Trust us, you should check it out.
Beyond that, on non-Internet based TV, we have some great rebroadcasts of touring car races from earlier this year, plus some dirt racing. Not bad at all if you ask us.
As always, let us know about anything we missed in the comments.
Photo credit Getty Images
All times Eastern
Saturday, Dec. 15
Lucas Oil Off Road Racing Pro2 & ProLite
Las Vegas Motor Speedway
Las Vegas, Nevada
12 p.m. on SPEED
(Race from Sept. 21)
FIA World Touring Car Championship Round 2
Marrakech Street Circuit
Marrakech, Morocco
5 p.m. on SPEED
(Race from March 31)
British Touring Car Championship Round 3
Thruxton Circuit
Andover, England
6 p.m. on SPEED
(Race from April 29)
Race of Champions Nations Cup
Rajamangala Stadium
Bangkok, Thailand
7 p.m. LIVE on Drive on YouTube and at Jalopnik
Lucas Oil Late Model Series 33rd Annual Dirt Track World Championship
Portsmouth Raceway Park
Portsmouth, OH
10 p.m. on SPEED
(Race from Oct. 18)
Sunday, Dec. 16
German Touring Cars Round 4
Brands Hatch Circuit
Kent, England
12 p.m. on SPEED
(Race from May 20)
FIA GT 1 World Championship Round 3
Circuito de Navarra
Los Arcos, Spain
6 p.m. on SPEED
(Race from May 27)
Race of Champions
Rajamangala Stadium
Bangkok, Thailand
7 p.m. LIVE on Drive on YouTube and at Jalopnik