Welcome to the Jalopnik Weekend Motorsports Roundup, where we let you know what's going on in the world of racing, where you can see it, and where you can talk about it all in one convenient place. Where else would you want to spend your weekend?
This weekend we celebrate our Labors, and yet we'll probably spend the whole thing watching other people labor away on the racetrack for our entertainment. Funny how that works, right? Well who cares, because a) I will never feel bad for a racing driver when they say they have to go to work because that line of work is awesome, and b) have you seen this weekend's lineup? We've got racing galore!
We start the weekend off right with some MotoGP and plenty of NASCAR, but for me the real star this weekend is America's beloved Second City (er, or maybe seventh or eighth...), Baltimore. Fun fact! I spent a summer living as a youth aboard the USCGC Taney, which is the last ship still floating that fought in the attack on Pearl Harbor, and is now docked in the historic Baltimore Inner Harbor. Okay, so it's not exactly the sort of fun fact you'd bring up at parties because why are you randomly bringing up some guy at parties? I mean, go ahead, bring up Jalopnik at parties yes, that is a good idea, but my childhood summer misadventures?
Anyways, all this has a point, in that this weekend we have the Baltimore Grand Prix, which not only features the wonderful Baltimore Inner Harbor quite thoroughly, but brings us the unique delight of actually featuring two major racing series all in one location on one race weekend. Both the American Le Mans Series and IndyCar are making stops at the Baltimore Street Circuit this weekend, and they're both fixing to feature some fantastic racing.
The Baltimore Grand Prix is also fixing to be the last street circuit race of ALMS as we know it, before it combines with the Rolex Grand-Am series to become USCR. I'm sure USCR will come to be known as a great race series in its own right, but for now we witness the end of an era. What better way to celebrate ALMS on its final tour than to watch some street circuit racing with a beautiful backdrop? With settings like that, it makes the whole thing just so bittersweet.
G/O Media may get a commission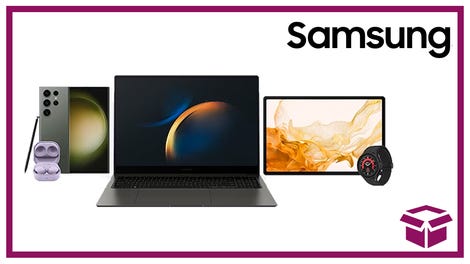 24 hour deals
Discover Samsung - Daily Deal
We know there's been a few site changes recently, so in the interests of comfort and familiarity we'll be keeping the races in the body of the posts, as well as on the map. Of course, please use our image annotation tool on the map above to show us races we might have missed, where they're being held, and where we can livestream them.
All times Eastern.
MotoGP Hertz British Grand Prix FP4/Qualifying
Silverstone Circuit
Silverstone, England
8:40 AM Saturday on SPEED2

NASCAR Nationwide Series Great Clips-Grit Chips 300 Practice
Atlanta Motor Speedway
Hampton, Georgia
9 AM Saturday on FS2
NASCAR Sprint Cup Advocare 500 Practice
Atlanta Motor Speedway
Hampton, Georgia
3 PM Saturday on FS2
American Le Mans Series Grand Prix of Baltimore
Baltimore Street Circuit
Baltimore, Maryland
3:30 PM Saturday on ESPN3
NASCAR Nationwide Series Great Clips-Grit Chips 300 Qualifying
Atlanta Motor Speedway
Hampton, Georgia
4 PM Saturday on FS2
IndyCar Grand Prix of Baltimore Qualifying
Baltimore Street Circuit
Baltimore, Maryland
6 PM Saturday on NBCSN
NASCAR Sprint Cup Advocare 500 Final Practice
Atlanta Motor Speedway
Hampton, Georgia
6 PM Saturday on FS2
NASCAR Nationwide Series Great Clips-Grit Chips 300
Atlanta Motor Speedway
Hampton, Georgia
7 PM Saturday on ESPN2

MotoGP Hertz British Grand Prix
Silverstone Circuit
Silverstone, England
8 AM Sunday on FS1
American Le Mans Series Grand Prix of Baltimore (replay)
Baltimore Street Circuit
Baltimore, Maryland
12 PM Sunday on ABC

NHRA Chevrolet U.S Nationals Qualifying
Lucas Oil Raceway
Indianapolis, Indiana
1 PM Sunday on ESPN2
NASCAR Camping World Truck Series Chevrolet Silverado 250
Canadian Tire Motorsport Park
Bowmanville, Ontario
1:30 PM Sunday on FS1

IndyCar Grand Prix of Baltimore
Baltimore Street Circuit
Baltimore, Maryland
2 PM Saturday on NBCSN
NASCAR Sprint Cup Advocare 500
Atlanta Motor Speedway
Hampton, Georgia
7 PM Sunday on ESPN