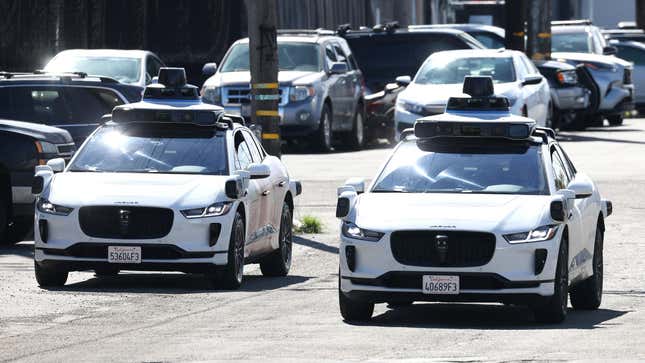 San Francisco is known for its fog. The thick, low-hanging water vapor can make visibility tricky, especially behind the wheel. Now, it seems that driverless vehicles are running into the same problem — with five cars from Waymo's fleet waylaid by heavy fog Tuesday morning.
This NYC Garage Takes Vanlife To The Next Level | Jalopnik Visits
In case you missed it:
Five Waymo autonomous vehicles gave up on traversing the San Francisco fog just before 6:00 am the morning of Tuesday, April 11, according to the San Francisco Chronicle, deciding to pull over on the side of a residential street until conditions improved. Unfortunately, the five vehicles were clustered together, forming a roadblock that made a residential street impassable until the fog cleared.
Other drivers, unaware of the cars' inhuman operation, tried in vain to get the crossovers to move. They flashed their headlights and tried to fit past the stopped Waymo vehicles, in a manner that sounds very West Coast. A New Yorker would have stood still and just laid on the horn for two, possibly three hours, or driven through someone's yard to get around.
The Waymo cars reportedly resumed normal operation within a matter of minutes, but the disruption remained an inconvenience for San Francisco residents. The fog, a condition to which all SF natives are accustomed, had now halted their morning commutes in a way they couldn't control — a fleet of robots, unaccustomed to the lowered visibility, had decided the weather was too bad.
The Waymo stoppage is the latest tale of automated vehicle testing interrupting the normal daily life of drivers. Of course, an AV won't know how to navigate fog without ever experiencing it, but it seems like the kind of testing best done on a closed course — not narrow side streets.
Edit April 13, 2023 9:35 AM: After publication, Waymo reached out to Jalopnik with the following statement:

"Early Tuesday morning, multiple Waymo vehicles in San Francisco encountered very dense fog and determined they should pull over temporarily. After a brief stop, the vehicles autonomously cleared the area as the fog began to clear. We have software updates planned to improve our fog and parking performance to address such situations in the future."