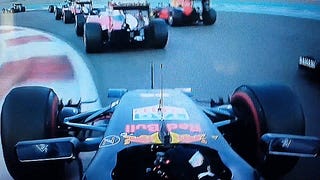 As usual, the two Mercedes cars already sped cleanly away at the start, however, the mid-field wasn't as lucky. Red Bull driver Max Verstappen collided side-by-side with Nico Hülkenberg right at the start, spinning him around to see oncoming traffic.

That's a code brown defcon over 9,000 right there.

Additionally, Kevin Magnussen had to retire right at the start with a damaged steering rack. While it initially looked like he may have made contact at the start, his onboard view doesn't show a collision then.

Cars have been dropping like flies early in this race. Valtteri Bottas retired right after Verstappen's spin with car problems. Jenson Button was forced to retire with a right suspension failure.
Lastly, Daniil Kvyat was forced to pull over on track, giving us this lovely view of him on a bike. New calling, perhaps?

Meanwhile, up in front, Mercedes' Nico Rosberg slotted in cleanly behind teammate Lewis Hamilton. Both championship contenders are just chilling out in front here. He doesn't need to win to grab the championship, but he does need to get on the podium to negate a Hamilton win.

Even the Mercedes' pit stops have played it safe, holding back for Ferrari cars to come in to avoid any semblance of an unsafe release penalty.

Verstappen already clawed his way back up into second place after his earlier drama, which is incredible. He briefly separated the two championship contenders at Mercedes, forcing Rosberg to take a risky pass around him.

Who will be world champion, and will any fast Red Bulls get in the way of the Mercedes' battle for the title? We'll see.