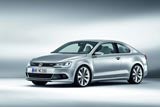 The Volkswagen New Compact Coupe concept bowed a little early today, previewing an Audi-esque Golf variant that's like a Scirocco but not as sexy. But hey, it's got a hybrid powertrain that lets it hit 45 mpg.
The New Compact Coupe isn't exactly what you'd call a performance hybrid, but with a claimed 0-to-60 mph run of 8.1 seconds, it's no slouch. A turbocharged, 150-hp, 1.4-liter four-cylinder and a 27-hp electric motor live under the hood.

The attached images come from a slightly early post on Worldcarfans. We'll have more details later, but for now, bask in the glory that is a seven-speed, twin-clutch-equipped, turbocharged four-cylinder hybrid. (Now that's an interesting combination of words, isn't it?)
Pretty car. Why can't we have the Scirocco again?