This is The Morning Shift, our one-stop daily roundup of all the auto news that's actually important — all in one place at 9:00 AM. Or, you could spend all day waiting for other sites to parse it out to you one story at a time. Isn't your time more important?
Last week we did things a little differently by putting the gears inside the comments below to make it easier for you to comment on individual gears. I think there were some benefits to it, but let's try it out the other way.
I still encourage you to make your own gears in the comments that we can heart-click to the top.
1st Gear: Volkswagen Tells Us More About The Golf GTD

G/O Media may get a commission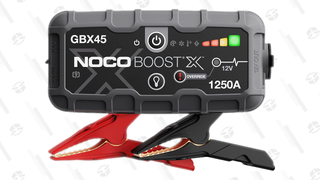 13% Off
Noco Boost X GBX75 Jump Starter
One day a nice group of people dropped a Volkswagen Golf GTD right on our doorstep. We drove it. We liked it. Basically, a GTI with a 2.0-liter, inline-four diesel producing a sparking 258 lb-ft of torque. We thought it more like an R32, to be honest.
Is it hot hatch fast? Not quite, it'll scoot to 62 mph in a reasonable 7.5 second, but that's while producing 30 MPG, combined, under the most unreasonable forms of driving. It goes on sale in Europe this June with a price starting at price equivalent to $39K US in Germany, but European prices are rarely instructive.
Besides, VW hasn't said they'd bring it here yet. We hope they do.
2nd Gear: Fisker To China? Not So Fast

Luxury plug-in hybrid automaker Fisker wants to sell off a majority of itself to China to avoid financial collapse, but Senators John Thune and Chuck Grassley don' think that should happen according to The Free Press.
I'd like to hear their backup plan given there probably aren't a lot of American companies who want to put up the $350 million the Chinese have, in change, probably rolling around at the bottom of their briefcase.
3rd Gear: Why No WiFi?

Many moons ago legislators voted to set aside part of the Wi-Fi band for connected-car technologies that would allow vehicles to communicate with one another. Now, according to Automotive News, the FCC would like to open that band up to more devices to that spectrum.
The FCC argues it needs that space since basically everything with an on/off switch now uses Wifi, and that doing so will free up some space on the congested network of signals passing around (and through) us every second of our lives. Automakers and NHTSA says they need their own band so car's communicating with one another don't have to deal with interference.
4th Gear: No Chance For .GM In The Future

The Detroit Free Press is reporting that GM is no longer pursuing .Gm, Chevrolet, .GMC, .Cadillac, and .Buick domain extensions.
It's an interesting move, but it's not clear if it's being done because they want to avoid the rather high fees involved with purchasing the names, or they think no one is going to go to Denali.GMC because that sounds ridiculous.
5th Gear: Honda Molds Steel And Aluminum Together

Honda has found a way to join steel and aluminum that cut out the spot-welding normally used to join two metals. What they're doing is using a '3D Lock Seam' where the steel and aluminum bits are layered and hemmed together.
They're basically making you a nice pair of pants with steel and aluminum. The first use of this is on the new RLX's doors, where they're hoping to drop the weight of door panels by 17%, thus improving performance and fuel economy without sacrificing stability or durability.
Cool.