Good morning! Welcome to The Morning Shift, your roundup of the auto news you crave, all in one place every weekday morning. Here are the important stories you need to know.
1st Gear: South Korea Doesn't Mess Around
South Korea has been one of the toughest countries on Volkswagen amid the global diesel emissions catastrophe. Last month the nation even issued an arrest warrant for a VW executive there.
Now, the automaker will cease sales of most cars in its second-biggest diesel car market in Asia, ahead of a probe in August that could revoke the certifications for those cars. Via Reuters:
South Korean prosecutors had notified the ministry of the list of models, accusing Volkswagen's South Korean unit of fabricating documents on emissions and noise-level tests, the ministry said. Prosecutors last month arrested a local Volkswagen executive, as part of a widening probe.
"We have decided to suspend sales of the affected models to reduce confusion among dealers and customers," a spokesman for Volkswagen's South Korean unit said, adding that it would take three months to achieve certification again for the models.
G/O Media may get a commission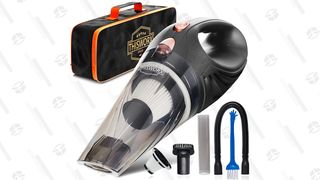 Save 50%
ThisWorx Car Vacuum Cleaner
Confusion. Yes. That is what it was.
2nd Gear: U.S. Ramps Up Green Loan Program To Boost Charging Infrastructure
Meanwhile in America, the White House is expanding on a green loan program that has in the past funded Tesla, Nissan and Ford (plus a couple of duds) to include companies that build electric vehicle charging stations.
EV sales have fallen well below President Obama's goals, and while cheap gasoline has been the definitive factor there, the country's charging infrastructure hasn't helped. This might. From Reuters (via Automotive News):
The Energy Department issued a notice clarifying that charging facilities, including hardware and software, are now an eligible technology. The program can provide up to $4.5 billion in loan guarantees for renewable energy and energy efficiency projects.

The Energy Department said EV charging stations could be considered efficient electrical transmission or distribution technologies, which make them eligible for a specific loan guarantee program.

The Obama administration also unveiled a partnership with nearly 50 automakers, utilities, states and electric vehicle charging companies to get more EVs and charging stations.
3rd Gear: Volvo Wants A Fully Self-Driving Car By 2021
Volvo's been one of the leaders in semi-autonomous technology, even on its current cars. But the resurgent Swedish automaker has also been a sharp critic of Tesla's Autopilot system, the closest we have to full autonomy on the road at the moment.
Evidently Volvo thinks it can do better within five years, because it wants full autonomy on the road by 2021. Via Bloomberg:
Volvo will start testing vehicles with advanced self-driving features next year in Sweden's Gothenburg, London and China, eventually putting about 100 test cars on the road in each country with ordinary customers as drivers. The project is a stepping-stone toward systems able to take over without human intervention.

Unlike BMW, which announced its 2021 target together with Intel Corp. and Mobileye NV, Volvo is still looking for collaborators. The Swedish carmaker needs expertise in software and cloud services and is looking into "various partnerships right now," Chief Executive Officer Hakan Samuelsson said.

"It's our ambition to have a car that can drive fully autonomously on the highway by 2021," Samuelsson said in an interview. "This technology is something as a carmaker you cannot develop by yourself."
Once again, there's a good chance the tech will be ready before the public—and the regulations—are.
4th Gear: A GM Profit Encore May Get Tougher To Do
Speaking of forward-thinking companies, General Motors has been going big into EV development and partnering with ride-sharing app Lyft, but as we saw with yesterday's strong Q2 results, the company's bread and butter is still trucks and SUVs.
As GM expands into uncharted territory, can it make money doing so? That's what The Detroit Free Press asks:
No one understands the need to straddle these old and new worlds of transportation better than Barra. The underlying premise is that GM's core business will remain very profitable for long enough to enable these new mobility ventures to mature.

"Launching the Chevrolet Bolt EV, getting that into the marketplace and seeing customers' reactions is one way we can capitalize on our battery cell technology," she said Thursday morning in response to an analyst's question about how to monetize new technologies and services. "That's one of the reasons we did the Lyft alliance, to get it into a ride-sharing fleet."

She went on to talk about the need to draw more revenue from OnStar, the company's 21-year-old subscription service that provides security, information, navigation and diagnostic features.

Lyft is not profitable. Cruise is a three-year-old San Francisco startup that never has had to report financial results.

While GM and Cruise employees are testing the latter's self-driving technology in the Bay Area, they are doing it with the still-under-development Chevrolet Bolt EV, a car that the public won't be able to buy until the end of this year or early 2017.
They have to experiment, but none of these things are guaranteed.
5th Gear: Investors On Tesla's Master Plan Part Deux: "Meh"
Elon Musk this week unveiled Tesla's exciting new Master Plan to outline where the company aims to go in the coming decades, and... no one seemed to care much. Via The Detroit News:
Auto analysts and Wall Street investors, many of them friendly to Tesla's leader in the past, responded largely with skepticism to "Master Plan, Part Deux".

"The main thing that was missing was any type of commitment to shareholder return or to actually become profitable," said Dave Sullivan, AutoPacific manager of product analysis. "If you have shareholders, you have an obligation to them. ... There was no discussion on how to become profitable."

Tesla shares were down all day Thursday, closing at $220.50 per share, off 3.4 percent.
Sad trombone.
Reverse: Cracking Down
Neutral: Will People Buy Fully Autonomous Volvos In 2021?
It depends quite a bit on what happens with testing, laws passed and public perception until then, but where do you see the AD car market in five years?