Self-driving technology in a race to protect itself from legal battles, automakers that just can't quite grasp how and where to sell their cars, CEOs in jail, eco-friendly semi trucks and heirs to the automaker thrones. All of this and more in The Morning Shift for Friday, Sept. 14, 2018.
1st Gear: Volkswagen Wants a Better Chance in Court When Its Cars Crash

Where there are cars, there will be crashes, and when there are crashes, there's always the potential for a lawsuit. That fact doesn't change when the cars are supposed to drive themselves.
Considering events like the fatal self-driving Uber crash this year, Automotive News Europe reports that a Volkswagen executive said the company is in talks with other companies about forming an alliance for self-driving technology. The executive spoke on the condition of anonymity because the plans aren't public, Automotive News Europe reports, but the person said the alliance would include making an industry standard for self-driving cars.
Industry standards help with legal battles over this kind of stuff, the person told Automotive News Europe. How comforting for us, the people who may one day be in these cars. From the story:
The talks are about cost sharing, risk sharing and other liability issues, said the executive, who has direct knowledge of the issue. "When you are involved in an accident, you have a better chance in court when you can prove that your car adheres to the latest technical standard," the person said.

"How do you create an industry standard? Ideally by getting others to use the same sensor kit and software, so for that reason an overarching cooperation between automakers is one of the options we are examining," said the executive, declining to provide names of the companies involved in the discussions. "The question is: How do we bring products to market that guarantee we made ourselves as small a target for damage claims as possible?"

The race to bring fully autonomous or nearly fully autonomous cars on the roads will create many regulatory and liability hurdles. "Law firms are already in the starting blocks," the executive said.
G/O Media may get a commission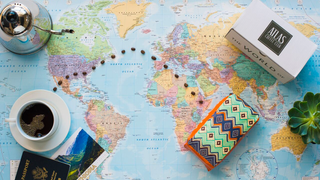 First Bag Free
Atlas Coffee Club - Free Coffee
Explore global coffee
With each bag, Atlas includes details on the coffee's tasting notes and a postcard about the region and its coffee history. And when you subscribe, you have options to tailor frequency, grind size, and roast preference of your beans, so you'll always be brewing the perfect cup.
The person told Automotive News Europe that Volkswagen's in talks with more than 15 companies and automakers about an alliance, but it's not as easy as gathering together and linking arms. It would call for some sharing, which companies in a race to build new technology probably aren't totally sold on.
From the story:
A key criterion when considering partners is whether all can agree that the technology would be open source, meaning there was no restriction on its use by participants. This would also help with ensuring tests were comparable, so validation data from one party would be applicable to all.
Automotive News Europe has more on it all here.
2nd Gear: Genesis Still Can't Figure Out This 'Dealership' Thing
Hyundai's relatively new luxury brand, Genesis, has had an interesting time when it comes to dealerships. Genesis broke off to be its own brand in 2015, but in addition to the struggles its had with becoming its own identity, it's also had to deal with its own indecisiveness about how to run the operation.
A big hangup for the past few years has been and continues to be how Genesis approaches the dealership thing. Hyundai's gone back and forth about who can sell Genesis cars and whether those dealers need standalone facilities to do so, and the latest word is that Genesis dealers in the U.S. are about to get cut in half.
The 2019 model year marks a change for Genesis, you see—a chance to further distance itself from those less expensive Hyundais. WardsAuto reports that the 850 dealers currently licensed to sell Genesis are about to turn into 400 or so.
From the story:
"Four hundred is still higher than what is ideal," admits Genesis Executive Director Erwin Raphael, on hand here for a media backgrounder on the new G70 sport sedan, the smallest and most nimble of the cars in the Genesis lineup.

"I think (ultimately) that will come down," he adds, noting that given expected volumes, some of those remaining dealers will not be able to operate profitably. "It just doesn't compute to 400."

The process of reselecting dealers is a complicated one, and the job isn't expected to be completed until late February.
WardsAuto reports that Raphael said by the end of the year, Genesis will "be hitting on all cylinders." That is, unless it changes its dealership plans again.
3rd Gear: Audi CEO's Future Is Reportedly Up for Debate on Monday
Audi CEO Rupert Stadler isn't having the best time after the emissions scandals by companies including his came about, oh, three years ago. He got arrested in June and has been in police custody since, and Reuters now reports that the Volkswagen board will discuss whether or not he's sticking around on Monday.
German authorities in Munich said Stadler's arrest was for "concerns over potential evidence tampering," and the company said soon after that Audi's head of sales and marketing, Abraham Schot, would become the interim CEO.
But it's time for the real discussions now—the ones on whether Stadler will have an executive job at a huge automaker once he leaves custody. What a sentence that was to write.
From Reuters, via a Friday report from German magazine Der Spiegel:
Citing sources close to the company, Spiegel said it was probable that Stadler would be asked to relinquish the role, seeing as he was unable to perform the duties of an executive.

Both VW and Audi have said that Stadler is presumed innocent unless proven otherwise.

A source told Reuters the reason for the supervisory board meeting was to discuss further steps towards a possible listing of VW's truck and bus subsidiary and not Stadler.
The report said sources close to the company think the board will also talk about Stadler and his future, but that no decisions on his role as the CEO are expected. Volkswagen declined to comment, according to Reuters.
4th Gear: Hyundai Wants to Haul Stuff With Fuel Cells
Hyundai wants to launch a semi truck with a fuel-cell powertrain by next year, the company announced Thursday. The announcement had a render of the truck in it, and it kind of looks like a giant, flashy, futuristic motor home.
Hyundai said the front grille on the truck "symbolizes hydrogen through geometric shapes" and has "an eco-friendly look" to go along with its more eco-friendly power source. The truck will be for the European commercial market, but Hyundai didn't give any specs on it yet.
From the announcement:
Fuel cell electric truck boasts distinctive design which sets it apart from other Hyundai commercial vehicle line-up. The truck aims at simple and clean design which is also aerodynamically efficient with a spoiler and side protector. [...]

During the IAA Commercial Vehicles 2018 taking place in Hanover Germany, Hyundai will announce the future plans for introducing the fuel cell electric truck in the European eco-friendly commercial vehicle market next year as well revealing vehicle specification.
The announcement also said Hyundai just finished the "first domestic highway journey with an autonomously navigated semi-trailer truck" in South Korea, when it went about 25 miles with a trailer "simulating cargo transportation"—whatever that means.
5th Gear: Hyundai's Also Getting Ready to Haul In a New Boss
Hyundai Motor Group chairman and CEO Mong Koo Chung is 80 and needs a successor to the throne one day, and like many big companies with families in charge, succeeding the throne is the plan for how things will go down—Reuters reports that his son, Eui Sun Chung, just moved up to executive vice chairman over Hyundai Motor Group. That puts him one step closer to the boss job.
His new role will have him respond to "deteriorating global trade issues and changes in competitive dynamics in major markets," according to a Hyundai Motor Group statement quoted by Reuters. From the story:
Chaebols like Hyundai and Samsung Group, which have grown into global firms from the rubble of the 1950-1953 Korean War, are undergoing a transfer of power to third- or fourth-generation leaders.

"In his new capacity, Executive Vice Chairman Euisun Chung will oversee the entire Group's operations, aiding and reporting to Chairman Mong-Koo Chung," the statement said.

The appointment also comes as Hyundai battles tumbling profits, mounting pressure from activist shareholders to improve its governance, and amid South Korea's trade tensions with the United States that threaten to disrupt its production plans.
An expert quoted by Reuters said it's a good move for Hyundai in terms of transparency on who's running the company. Eui Sun Chung, according to the story, has been going to auto shows and government meetings on behalf of his father, who hasn't made many public appearances.
At 80 years old, who wants to?
Reverse: The First Race for the Oldest Trophy in Motorsports
On Sept. 14, 1905, the inaugural race for what Le Mans calls the "oldest trophy in motorsports" happened. It was the Royal Automobile Club International Tourist Trophy on Isle of Man, according to the Le Mans website, but it isn't the Isle of Man TT—the trophy's been given out at race courses all over.
Since 2013, the website says, the winners of the World Endurance Championship 6 Hours of Silverstone have gotten the trophy.
Neutral: The Genesis Dilemma
What would have been the right way for Genesis to go about dealerships from the start, if it wanted to differentiate itself from Hyundai? Should it have just had a bunch of new places built, completely separate from Hyundai dealers? Should it really care that much about sharing the lot with Hyundai?
The world may never know, because it's tried everything.