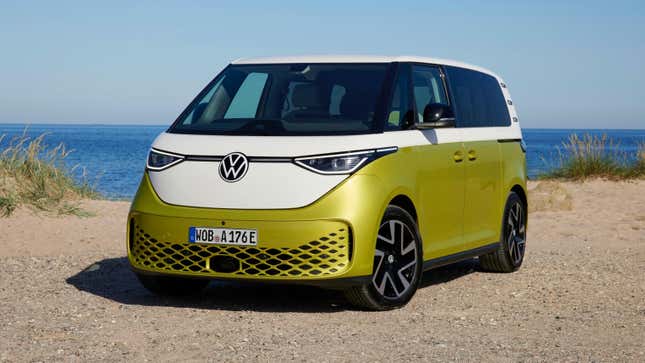 Volkswagen has finally laid out the details on its upcoming hot version of its highly anticipated ID Buzz van, dubbed the ID Buzz GTX. The fact the regular van hasn't made it to our shores yet doesn't make this news any less exciting.
In an interview with Autocar, Volkswagen's R&D chief Kai Gruentz said the GTX will be a "cool high-performance version" of the ID Buzz that will have 335 bhp (about 340 horsepower) on tap that'll be routed to all four wheels. It'll also come with a "dedicated" interior, new exterior colors and a number of additional features. This is the first official confirmation of the new powertrain and trim for the van.
The outlet reports the GTX will use a dual-motor all-wheel-drive system that is shared with other vehicles in Volkswagen's ID range. If you want an all-wheel drive ID Buzz but don't need all the performance of the GTX, Volkswagen is also said to be considering launching a normal all-wheel drive version of the van.
Right now, the only way you can get an ID Buzz is with a single electric motor that sends 201 horsepower and 229 lb-ft of torque to the rear wheels. Electric cars may be known for some very brisk acceleration, but the ID Buzz is an outlier. During our initial test of the ID Buzz in Germany, we reported that 0-60 is somewhere in the 10 second range. But then again, it's a van. What do you expect?
Keep in mind that the vehicle we tested was the short-wheelbase version that we will not be getting here in the U.S. We will only get the long-wheelbase ID Buzz that will reportedly be about 10 inches longer than the one sold overseas.
"It will have three rows and seven seats, and you can pull them all out of the back," Gruenitz told Autocar. "It will also have captain chairs that turn around."
The outlet says we can expect to see the GTX be officially unveiled sometime in 2023.