Up in smoke, that's where my money goes — or so said Red Bull Formula One team principal Christian Horner to NBCSN about Volkswagen's plans to buy the Red Bull F1 team. Volkswagen faces a possible $18 billion fine for the dieselgate scandal, wherein a system was installed on its diesel road cars to cheat emissions tests.
While the Volkswagen Group's purchase of Red Bull seemed like a done deal last Friday, that was before the, ahem, labrador (maaaan) hit the fan. Red Bull is now stuck in the unenviable situation of having no deal with a power unit supplier for next year as well as having their long-term partnership with VW completely disintegrate over the course of a week.

"Of course it's not an ideal situation," Horner told NBCSN. "I'm working hard to try and find a solution, and hopefully there will be a solution in the coming weeks but it's quite simple. If we don't get an engine, we can't push the car."
Red Bull is officially back in panic mode. If they don't get a reliable power unit from Ferrari, they've threatened to quit. A deal with Ferrari was originally intended to hold them over until the Volkswagen Group could jump in with its own power unit in 2018, however, all bets are off now as to when VW could actually afford getting into the notoriously expensive sport.

When NBCSN asked if they could assume that Volkswagen wouldn't be providing Red Bull with an engine, Horner replied, "That seemed to go up in smoke."
G/O Media may get a commission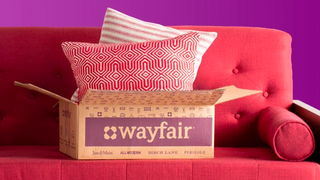 Big deals
Wayfair Surplus Sale
The real tragedy of this falling through is that even now more than ever, Red Bull and Volkswagen seem made for each other. If there's two entities known for skirting the rules and/or exploiting the bleeding edge of what's allowed, it's these two.
Volkswagen Group brand Audi was the focus of many VW to F1 rumors, with the idea of Audi swapping their World Endurance Championship and Deutsche Tourenwagen Masters works programs to fund an F1 run at the center of many conspiracy theories. Audi Sport officials have not only publicly denounced this idea, but one Audi Sport employee even called out the dubious sources of these rumors in our comments.

So, Red Bull is doubling down on their threat to quit Formula One if they don't get a competitive power unit for next year. Horner told NBCSN:
Dietrich Mateschitz doesn't tend to make idle threats so when he does talk, you have to listen to what he says.

Other activities have been stopped at very short notice whether it's NASCAR or Red Bull Air Race. F1 has to fulfill a purpose, and if it doesn't fulfill that purpose within the group, then serious questions will be asked.
Red Bull pulled out of NASCAR in 2011 following lackluster results, so citing that adds a little more weight to their threat to leave. Horner continued his rant to NBCSN, laying the blame with Renault once again:

It's not that we're no longer winning. It's that we're in a position where we can't compete other than at bespoke circuits such as Singapore.

I think what you have to understand with Red Bull is that having paid for an engine with Renault throughout our relationship, as a paying customer, it's unacceptable to get a product as inferior as we've received.

Therefore, with the way that the regulations are, unless you have a Mercedes or a Ferrari power unit, it's quite simply impossible to compete. If we're not able to compete, then you have to question what is the validity of remaining in F1.
That's a harsh way of putting the current state of "haves" and "have nots" in Formula One right now, but it's pretty accurate. Hopefully the team's threats to leave don't come to fruition or push their talent to other teams who aren't threatening to go anywhere. Formula One needs Red Bull back in the running for wins and championships now more than ever just for the health of the series, and it's in the series' own best interest to ensure that happens somehow.

[H/T 8695Beaters]

GIF via YouTube.

---
Contact the author at stef.schrader@jalopnik.com.