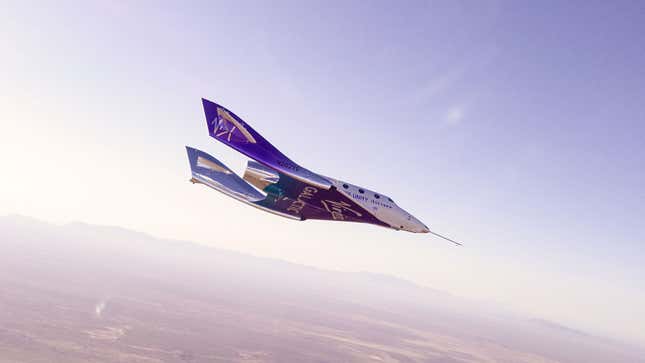 In the race to become the first billionaire in Space, Richard Branson did a pretty good job with his Virgin Galactic outfit. But after flying very close to space back in July 2021, the privateer spaceflight company has sat dormant with no orbital action since Branson's flight. Now, the company is ramping up its testing schedule and has taken to the skies once again.

Chase Elliott Explains the Challenge of Adapting to NASCAR's Next Gen Car
In case you missed it:
Nearly two years ago, Virgin Galactic made history when billionaire Richard Branson and a crew of fellow famous faces flew 53.5 miles into the sky onboard one of its space planes. The flight was part of the next great space race, which pitted Branson against Elon Musk and Jeff Bezos, all of whom were fighting to be the first billionaire in space.
Since Branson's flight, however, Bezos and his Blue Origin outfit have gone on to send more ridiculously rich folks into orbit, while Virgin Galactic has gone silent. There were even fears that the company was in financial trouble as its sister project, Virgin Orbit, folded in the UK.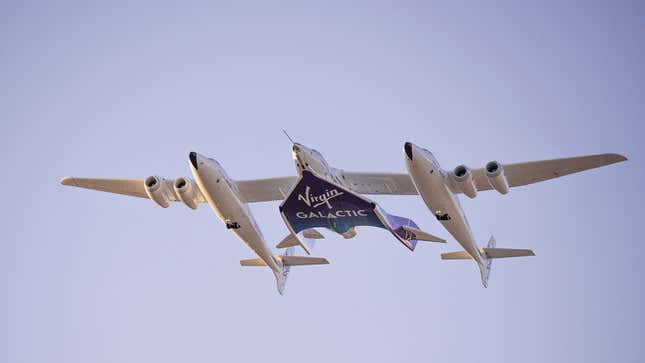 But rich people have no need to fear, as Branson's rocket project is still up and running, and even conducted another test flight earlier this week.
According to Ars Technica, the space startup conducted a test flight of its VSS Unity spacecraft, launching it from the VMS Eve aircraft, which took off from Spaceport America on Wednesday morning. Ars Technica reports:
"The VSS Unity spacecraft did not make a powered flight with its rocket engine on Wednesday, but it cleared the final hurdle before doing so by performing a glide test in New Mexico.

"On Wednesday morning, the VMS Eve aircraft took off from Spaceport America and subsequently released the spacecraft at an altitude of about 14 kilometers. After this, VSS Unity glided back to the runway in New Mexico, testing modifications to the spacecraft's flight controls and handling."
According to Virgin Galactic, the test flight was all about evaluating the craft's performance in the glide stage of its flight. At this point, the Unity space plane flies without its engines running and glides back to Earth, where it lands on a runway. Tests such as this allow the team to finetune the craft's gliding performance and helps ensure the craft is ready to commence powered flights again soon.
Virgin Galactic says that the data collected during this week's flight will now be analyzed by its team in preparation for a powered flight of the VSS Unity. The next rocket-powered mission will see two pilots and four Virgin Galactic mission specialists board the space plane and test the customer experience.
The company is billing these tests as the final steps before it can begin its commercial space flight operation. That commercial launch is still scheduled for Q2 of 2023, which gives the outfit until the end of June if it hopes to hit this target.
Ars Technica reports that the first commercial launch for Virgin Galactic will carry officials with the Italian Air Force. After that, the company hopes to carry out one launch a month, with seats onboard priced from $450,000.