Welcome to Used Car Face Off, where we find two similar or similarly priced used cars and ask you which one you would buy. Choose wisely!
This weekend is one of the craziest shopping days of the year. I've altered my driving routes to stay clear of any major malls or parking structures. Black Friday makes people go crazy with credit cards and they end up trying to get kids' bikes and playhouses and TV boxes into the back of a Toyota Camry. How exactly did they think that was going to play out?
What better time than now to think about wagons? And we're not talking "lifestyle vehicles" that only look vaguely practical, but 1980s load luggers – ones with manual transmissions, too. It's like Christmas, but not.
I'm an unabashed fan of the wagon, with a special place for ones that defy logic. So here are a couple that will easily swallow that 50-inch LED TV from the big box store and leave plenty of room for other big boxes – all while you look cool in a sea of minivans and crossovers.
A Mercedes W124 is a totally logical purchase and there are a fair number of them out there, even if just about all of them have mileage with six-digit figures. Part of that just proves that this generation of E-Class is on one of the best platforms to come out of Stuttgart.
G/O Media may get a commission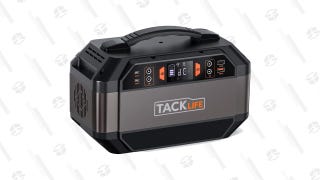 Tacklife Portable Solar Generator
And with a diesel engine, it could go on for decades and decades of loving abuse. On the face of it, there's nothing too special about this 1987 300D, but consider most of the W124 wagons that came to the US between the mid-1980s and mid-1990s were powered by gas engines, this 3.0-liter non-turbo diesel six is a fairly rare bird – and I presume a slow one until that diesel reaches speed.
This is a German import, complete with steel wheels instead of the alloys we'd have received in the US, cloth upholstery with a pretty gloomy print, manual windows and a manual transmission. The latter is really important because I can't seem to remember Mercedes every offering a stick-shift hauler in this country.
W124 Mercs came in some of the most interesting varieties and the wagon is probably tied with the coupe and the 500E that have intrigued me the most. It's refined even by today's standards, relatively compact on the outside and one of the most spacious load luggers on the inside. And it's just built perfectly. Though this auction has ended, we can still dream about it.
By comparison, then, this 1983 Volvo 240 Turbo Wagon is rather ordinary. This is THE turbo brick right here, with styling about as sexy as an upright freezer. But this car is especially cool because of its of its turbocharged four-cylinder with about 150 horsepower going through a four-speed manual transmission.
That powertrain in what shares a lot of practical properties with an Ikea bookcase makes for an entertaining combo. This particular turbowagon has had a few suspension and engine modifications so it doesn't handle quite like Noah's ark, either.
OK, so as durable as the Volvo is it doesn't have quite the vault-like feel of the Merc and it's clearly an offbeat choice. But for my money, this old 240 is a better buy than an imported Mercedes estate that's devoid of most of the luxury features the US models would have had. Maybe if it were up against a turbodiesel, it would be different. And there's something about a 240 Turbo that gets me all tingly, wagon or not. That Mercedes is a buy for a W124 fan maybe, but in a totally predictable move I'll take the Swedish iron.
What's it gonna be today, sports fans? Sauerkraut or Swedish meatballs? You decide!