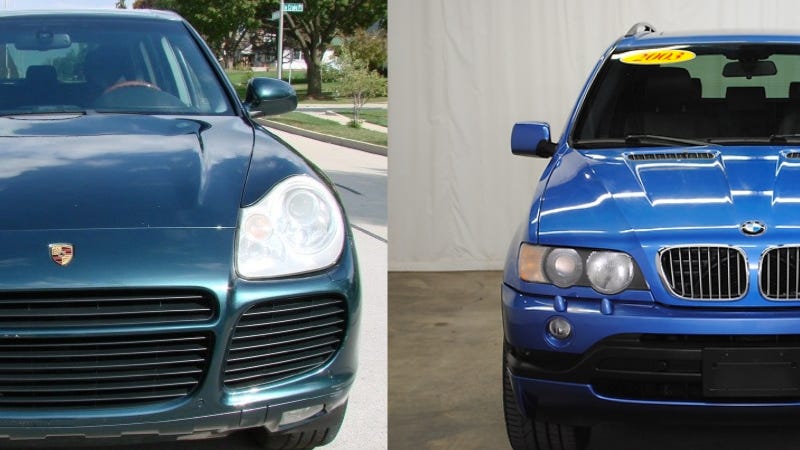 Welcome to Used Car Face Off, where we find two similar or similarly priced used cars and ask you which one you would buy. Choose wisely!
It just takes a burning oil refinery and a leap in gas prices to make people think about ditching their guzzler of an SUV for something like a Ford Fiesta. And then gas goes down about 30 cents a gallon and everyone stops panicking. It's the status quo, these days.
The recent surge in gas prices in California must have people rethinking their purchase of a fast, inefficient SUV, which means it's going to be a good time to pick one up for cheap.
Think back to the early '00s and the simultaneous phenomenons of luxury carmakers making SUVs and sticking monster engines in them. Gas was, what, $1.19 a gallon? Good times. The BMW X5 debuted 13 years ago now, and it's safe to say the first-gen model looks pretty good today. After all, it's really an inflated and jacked-up E39 Touring, which was the last good-looking 5-series and before design duds like "Bangle Butt" and "Flame Surfacing" ruined the look of BMWs. It's also worth mentioning that the X5 was kind of the first crossover that had no off-road pretentions but was rather good to drive on the road.
The 4.6is was the first attempt to make a really hot X5, and this example is a beautiful Estero Blue one and very clean – and will probably go for dirt cheap. Like I said, these old X5s look good today. But no X5 is renowned for its durability and you're also going to look at a car that might be devoid of iDrive, but has one of the most daft sat navs in the world. And even if you don't push it, your MPG will probably be in the teens. Still, fast, good-looking, practical, all-wheel drive: Those Germans know their cars.
But the X5 4.6is is not the king of bonkers German 4x4s of the 2000s. That crown has to go to the Porsche Cayenne Turbo. Those three words elicit so many different emotions, from outrage to curiosity to outright respect. Remember how much outrage the Cayenne caused purists when it was first unveiled a decade ago? And remember how many of them popped up in places like Beverly Hills and Houston?
The Turbo is still an insane thing, but what's even more outrageous is how plentiful and cheap they are on the used car market. I picked this one because it's green and is going just $17,000.
Sure, it's got some mileage on it, but remember these went for $90-100,000 when optioned up with expensive Porsche extras. And you get a powerful, proper off-roader, because unlike the X5, the Cayenne has height-adjustable suspension and diff locks.
I wonder if any Cayenne Turbo has seen much off-roading, but it's nice to know it won't get stuck on anything more adventuresome than a polo field.
Honestly, though, if I were dropping my cash on a car it wouldn't be either of these. But if I had to pick, I think I'd like the X5 more. The Cayenne Turbo may be absurdly fast and talented in the rough stuff, but it must be getting uglier with age. Not only does it still look like a 911-meets-Country Squire, but it comes from a time when Porsche was putting cheap plastic inside its cars.
I remember sitting in a new Cayenne shortly after its North American launch at the LA Auto Show and the silver trim was already peeling. The X5 may be the most poser-ish 4x4 by far, but as a fast wagon it's very convincing. I'm always tempted by cheap X5 V8s and the 4.6is tempts me a lot – all the way to $5/gallon 91 octane.
Which one would you pick? Tell us in the comments.
Photos credit eBay