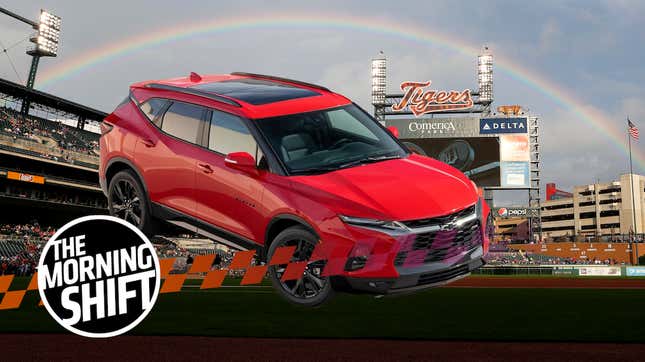 Chevy went a little tone deaf displaying the Mexican-built Blazer above a Detroit baseball stadium, FCA might find a friend at PSA, Toyota is stressed over trade, and so much more for The Morning Shift of Monday, April 1, 2019.
We're Driving the 2024 Integra Type S, What Do You Want to Know?
1st Gear: Chevy Blazer Couldn't Take the Heat at Detroit's Comerica Park
General Motors has displayed its newest models around the center field fountain of Comerica Park, home of the Detroit Tigers baseball team, for the past 10 years. This year, it chose a pickup and the new Chevy Blazer, which then pissed a lot of people off.
The problem is the Blazer is assembled in Mexico, and GM recently announced it was planning to close down its Detroit-Hamtramck assembly plant and its Lordstown Assembly in Warren, Ohio, among three other North American plants.
Here's more from Automotive News:
Its choice of the Blazer, though, reignited anger over GM's plant cutbacks. Union leaders have condemned the company for assembling the Blazer in Mexico while cutting jobs in Canada, Ohio and Michigan.

Rep. Tim Ryan, an Ohio Democrat whose district includes the Lordstown plant where GM ended production last month, called the Blazer display insensitive.

"It's a slap in the face for American workers to showcase foreign-made cars alongside America's pastime," Ryan said in a statement last week, adding: "This tone-deaf display is an insult to their tireless work and dedication to this company. GM should know and do better."
GM responded to the criticism by trying to claim most of the work that goes into building the Blazer is still done by U.S. workers. From the Detroit Free Press:
"We want people to enjoy baseball without distractions, so we are going to replace the Chevrolet Blazer with a Chevrolet Traverse at the Comerica Fountain," said [GM Spokesperson Jim Cain] in a statement.

"American workers contribute significantly to the success of the Chevrolet Blazer. The Blazer generates more than half a billion dollars into the U.S. manufacturing economy each year, helping support thousands of good-paying U.S. jobs."

It's really hard to understand how GM didn't see this one coming. While it does make sense initially to advertise your newest model, if there's any crowd in America that would be aware your car isn't built in the U.S., it's the autoworkers sitting in the Detroit Tigers stadium.
2nd Gear: FCA Could Have Saved GM Some of the Headache
Speaking of the Detroit-Hamtramck plant, Fiat Chrysler Automobiles was reportedly in serious discussions to buy the assembly plant from GM before the latter announced its own plans to shutter it, according to Automotive News:
GM and FCA had a "legitimate" discussion about the plant, one source said, but couldn't reach a deal for various reasons. The exact time frame and terms of the proposal are unknown.

Two other sources said FCA's proposal came after GM announced in late November that the 34-year-old Hamtramck plant wouldn't be assigned a new product in 2019. GM's cost-cutting move caused FCA to pause planning at its Mack Avenue engine plant site in Detroit to study the feasibility of building Jeep SUVs at Detroit-Hamtramck, the two sources said.

GM and FCA officials declined to comment directly on the talks. GM said in a statement that it has "received inquiries from interested parties related to our unallocated plants" and it "would consider any that are truly viable business opportunities."
While GM has planned for the cuts, it's already extended production at the Detroit-Hamtramck plant into January 2020, and still has to negotiate with the UAW. It would be a lot easier, and better for those losing their jobs, if GM would work out a sale of the plant instead.
3rd Gear: FCA May Partner Up With PSA
Fiat Chrysler Automobiles has been looking for potential business partners for some time, but it seems they may finally have found a deal with PSA Group, the company behind Peugeot, Citroen, DS, Opel and Vauxhall.
Here's the details from Bloomberg:
The French carmaker and its Italian-American peer have been holding preliminary discussions to collaborate on a "super platform" — the basic underpinning of a car model — to reduce their investment costs in the highly competitive region, said the people who asked not to be named as the matter is private. Preliminary talks could be announced by the end of the first half, one of the people said.

Former FCA CEO Sergio Marchionne championed the idea of an alliance or merger with another major automakers, infamously gunning for GM, believing that two companies could easily cut down costs by working together. It's an idea that current CEO Mike Manley is also interested in, according to Auto News, and he may find a deal with PSA as it's been looking for growth opportunities as well.
More on the potential deal from Bloomberg:
Any eventual partnership will likely include sharing investments for new electric cars, the people said. Sales of electric vehicles are expected to boom globally to 60 million a year in 2040 from about 2.2 million in 2019, according to BloombergNEF estimates.


"No single car manufacturer alone can afford the sheer size of investments needed to develop platforms for the kind of smart, hybrid and connected vehicles that will hit the road in coming years," said Carlo Alberto Carnevale Maffe, a professor at Bocconi University in Milan.
Carlos Tavares, CEO of PSA Group, has only confirmed that it was in beginning discussions with a specific partner, and still planned a U.S. comeback, in an article in the Wall Street Journal over the weekend.
Such a deal could make a lot of sense, as PSA wants to grow globally and FCA looks to expand into Europe more effectively than it's managed with Lancia and Chrysler in the past. But with FCA's aging lineup and seemingly endless shift in future plans, we'll have to wait and see what it can actually pull off.
4th Gear: Toyota Sweating Over U.S.-Japan Trade Negotiations
Toyota's North America CEO Jim Lentz doesn't seem to think that emerging trade talks between the U.S. and Japan are starting off particularly well, which he believes could spell serious trouble for the U.S. auto market.
From Auto News:
A still-polite but growing trade dispute between the U.S. and Japan — one with talk of 25 percent tariffs, volume-limiting quotas and faint echoes of jingoistic populist themes from three or four decades ago — threatens to "derail" an otherwise healthy U.S. auto market, Lentz says.

If worse comes to worst, and the two longtime trading partners can't find common ground, tariffs could knock down 2 million new-vehicle sales as quick as a Texas windstorm, he warned.

"I don't think Japan is interested at all in talking about quotas," Lentz said. "I don't think they want to create that conduit of quotas that maybe seem reasonable today but could be ratcheted down at any point in the future. From what I'm hearing, that's kind of a nonstarter with Japan."
If it starts to go down anything like the U.S. negotiations with China, it could get really ugly. The company's dealers are expected to lobby Congress against the proposal of import tariffs on automotive parts next week, according to the report.
5th Gear: Renault and Nissan Were Considering a Fourth Partner
While the current alliance between Reanult, Nissan and Mitsubishi is in a bit of a crisis with the indictment of former Nissan CEO and current Renault Chairman Carlos Ghosn, reports now indicate that there was pressure to solidify the alliance between the three companies in the months before Ghosn's arrest, possibly by bringing in yet another company.
Here's more from Automotive News:
In the correspondence, Saikawa raised the possibility of bringing in another automaker as a fourth partner for the alliance. He did not identify any potential candidate. He wrote that expansion opportunities also included "acquisition of Chinese companies" for electric vehicles or connected services.

[...]

In the message to Ghosn, Saikawa advised changing the alliance's structure in 2019 "rather than wait." Seven months before, Ghosn had pledged to cement the partnership, a promise that came after France, Renault's most powerful shareholder, had demanded deeper ties with Nissan.

Yet a move for closer relations faced resistance from within Nissan, which feared Renault would gain even greater sway. Already their shareholding is lopsided, with Renault owning 43 percent of Nissan compared with the Japanese automaker's 15 percent stake in Renault. Their partnership has been under further strain since Ghosn's Nov. 19 arrest.

In considering bringing in a fourth partner for the alliance, Saikawa's email also highlights the pressure automakers are under to grow amid an expensive shift by the industry to electric and self-driving cars.

So, if the reporting is accurate, Nissan was under pressure to gain more power in the alliance, but was also interested in a full-on merger with Renault. Renault was feeling pressure to advance the alliance into a full merger as a way of erasing that aspect of uncertainty for its future.

Meanwhile, all of the companies were worried about the cost of developing all-new platforms for electrified vehicles, and the easiest approach for that could be finding a fourth company partner.
According to the Financial Times via Auto News, Renault is still interested in making a merger with Nissan still happen, even amid the Ghosn scandal. The company reportedly plants to secure the merger, and then start courting other potential partners.
Reverse: Race Car Driver Alan Kulwicki Dies In Plane Crash
Neutral: Do You Think FCA Is the Best Partner for PSA?
Out of all of the American automakers, is there any company you would rather see PSA pen a deal with than FCA for its great American return? Alfa Romeo hasn't been the bombshell success FCA wanted when it brought the brand back stateside, at least not yet, but can they do it right with Peugeot?