The winners and losers are stacking up around Trump's trade war with China, tens of millions are dropping here and there, and the unthinkable happened: Trump has pissed off car dealers. All this and more in The Morning Shift for Tuesday, Feb 12, 2019.
1st Gear: GM Announces It Somehow Has 20 Models To Debut Or Update This Year In China
This is a relatively minor news item, but one I find ever more interesting the more I think about it.
"GM to launch 20-plus new and updated models this year," writes Automotive News China, reporting that GM expects a good half of these to be all-new, the other half being updates. It's "to shore up sales growth," as Auto News China puts it, detailing in specific:
In 2018, GM's China deliveries dropped 9.9 percent to 3.64 million because of weaker economy.

G/O Media may get a commission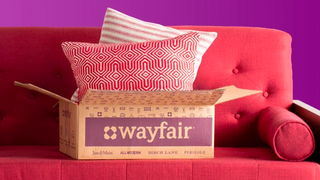 Big deals
Wayfair Surplus Sale
I have no clue how GM even has this many vehicles to update, but the scale of operations in China are substantial. And naturally the growth is in electrified vehicles, because that is what China wants:
GM aims to have 10 electrified vehicles in China by 2020. That's up from four now: the Cadillac CT6 plug-in hybrid, the Buick Velite 5 extended-range electric vehicle, and two Wuling-badged, two-seat micro electric sedans.
And the rest of the world will follow.
2nd Gear: Nissan Writes Off Ghosn for $83 Million
Nissan announced earnings today, and included in that somewhat dour report was an $83 million charge to cover what it owes Ghosn, as Bloomberg put out in a wire report:
Nissan Motor Co. took an $83 million charge related to the compensation of jailed former Chairman Carlos Ghosn as the Japanese automaker reeling from the shock arrest of the iconic executive warned of its lowest profit in six years. Japan's third-largest automaker by market value slashed its operating profit forecast to 450 billion yen ($4.1 billion), below the lowest of analysts' estimates as sales in China and the U.S. continue to wane.

[...]

The one-time charge of 9.2 billion yen to reflect Ghosn's
yet-to-be-paid remuneration shows Nissan and Renault are set to
feel reverberations from the scandal for a long time.
I've grown fairly numb to Ghosn news these days, but the size of this figure reminds me of the scale of this whole affair. This is a titanic shift for one of the biggest automakers in the world.
3rd Gear: At Least Somebody Is Happy
I'll start by pulling this from a Bloomberg wire report, summing up the state of the Chinese auto industry in light of Trump's trade war:
The U.S.-China trade war has poured cold water on the world's biggest car market, with many buyers putting off purchases. China had its first annual slump in auto sales in more than two decades, hurting shares of carmakers around the globe. In a Feb. 12 note, Morgan Stanley said it had a cautious view on the sector in the U.S., saying market expectations are too high.

A Bloomberg index tracking Asian manufacturers has lost 25 percent since a January 2018 high, compared with a 16 percent drop in the broad MSCI Asia Pacific Index.
Sounds rough for everybody, doesn't it? Well, not for the copper industry, apparently!
"China's demand for electric vehicles charges copper," heads a rare glowing report from the Financial Times, saying that while car sales have slumped in China, at least electric car sales are up. EVs use more copper than internal combustion cars, so fear not, copper. Per the FT:
The start of a long-term demand trend is occurring in China, where copper in electric cars is set to offset a sharp fall associated with sales of petrol cars this year, according to analysts at Citigroup.

The number of petrol cars made in China this year is expected to drop by 9 per cent, according to Citi, while electric car production is set to rise by 53 per cent. That results in net copper demand growth of 0.3 per cent for the sector.

"[For copper] it's an EV story into the 2020s and we're just getting a really early taste of that now," said Oliver Nugent, of Citi. "Thanks to the higher intensity of copper in EVs we're going to sail through that very weak auto demand number this year."

Wow, 0.3 percent growth in the copper sector! Alright, fine, I'm taking good news where I can get it these days.
4th Gear: Trump Somehow Managed To Piss Off Car Dealers
I hate the news trope of finding people who voted for Trump and regret it now, but this one was too big for me to pass up. A Bloomberg wire report detailed that Trump has managed to piss of car dealers here in the United States. Is it possible to find a group of people who would be more supportive of Trump? I'm not sure there is. In any case, here's the schadenfreude of American auto dealers pissed that Trump got us into a trade war, per Bloomberg:
"I've learned my lesson,'' says [Car dealer Jim Smail in Greensburg, Pennsylvania], the president of Smail Auto Group, which sells U.S.- and foreign-made vehicles. "I thought that's what we needed and I got what I didn't expect, that's for sure.''

[...]

The president has already publicly threatened to impose tariffs of as much as 25 percent on automobiles and parts. The move is particularly focused on fixing what he says is an unfair trading relationship with the European Union. Trump last year used the same arcane trade law — Section 232 of the Trade Expansion Act of 1962 — to justify tariffs on steel and aluminum imports.

Smail's dealerships sell American, Korean, Japanese and German-made cars. It's hard to say how the potential tariffs would impact his business because there are no details yet, he says. What is certain: A trade war with cars in the crossfire would hurt his sales and cause layoffs.

"I look at tariffs as a cost to the consumer," Smail says. "I don't understand how anybody with economic advisers around him is so uninformed" about the effects of this plan, he says of Trump.
Who could have possibly seen this coming?
5th Gear: This John Dingell Obit Is Something Else
I remember first learning that the guy who had long been in charge of the House Energy and Commerce Committee stood for Dearborn and Michigan's auto industry. It explained so much of the country's glacially slow progress on, well, energy and commerce.
So what does an obit of the guy look like coming from a home paper to the auto industry? Well, the Detroit News' obit "In Dingell, automakers lose best friend in Washington" is a very illuminating read on industry and government, uh, synergy:
Michigan's legendary congressman, John D. Dingell, died the same day the "Green New Deal" appeared in Washington.

He would not have approved. A driving force behind the Clean Air, Medicare and Affordable Care acts, Dingell was nonetheless suspicious (to put it gently) of what he privately termed "the g-damned enviros" and the anti-manufacturing policies they predictably espouse.

The reason is simple: The Dearborn Democrat never forgot who he represented for nearly 60 years in Congress.

That is just the start, and I recommend reading the whole thing for a bit of a how-the-sausage-is-made moment. Also read our obit for a slightly more measured view of the man.
Reverse: Thank Goodness That All Worked Out And The Industry Is Back, Just Like All Those American Union Jobs
Neutral: How Long Until China's EV Market Reshapes Our Own?
All of this trade war news focusing on poor ICE sales in China balanced only by rising EV sales has me thinking: How long until, realistically, our American EV market starts to switch from luxury electrics to totally common ones?