The Morning Shift
All your daily car news in one convenient place. Isn't your time more important?
---
1st Gear: Transportation Secretary Ray LaHood said Tuesday he is optimistic regulators and automakers can reach agreement on new fuel efficiency standards for 2017-25. But automakers and Sen. Carl Levin, D-Detroit, are looking for more details. The White House told U.S. automakers last week it was considering requiring a fleetwide average 56.2 mpg for cars and light trucks by 2025 - a move that could add at least $2,100 to $2,600 to the price of cars. But regulators say owners would recoup the higher costs in 2.5 to 3.5 years, through fuel savings. Levin said he is sending a letter to the White House asking for a detailed explanation on how it decided on 56.2 mpg by 2025. "We want to know how they arrived at that starting point," Levin said in an interview Tuesday. That's a legitimate question. We think it involves a Ouija board and/or a dartboard.
---
2nd Gear: Bloomberg reports this morning that Ford Motor Co. plans to ship its Ranger pickup to 148 countries from South Africa under a $500 million export program, Chief Financial Officer Lewis Booth said. The U.S., of course, ain't one of them.
---
G/O Media may get a commission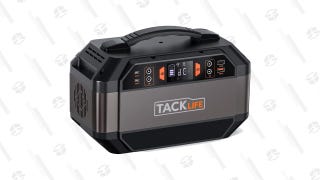 Tacklife Portable Solar Generator
3rd Gear: Toyota Motor Corp. said it will recall 45,500 Highlander Hybrid and 36,700 Lexus RX 400h cars in the U.S. because some transistors were inadequately soldered. If not fixed they could lead to fiery death! The automaker will fix the problem in 85,000 units of the two models in the U.S., Canada, Puerto Rico and Guam, Shiori Hashimoto, spokeswoman for the Toyota City, Japan-based company said today. Toyota will also recall 11,164 units of the two models in Japan and 15,000 in Europe, she said.
---
4th Gear: A federal judge denied Chrysler Group's request for a preliminary injunction to block Pure Detroit from selling "Imported from Detroit" merchandise. In a 20-page-ruling Tuesday, U.S. District Judge Arthur Tarnow rejected Chrysler's March 25 bid to block the clothing retailer from using the slogan, first used in Chrysler's Super Bowl commercial starring Eminem, to peddle T-shirts while a trademark infringement lawsuit is pending in federal court. If no settlement is reached, a trial might not take place until next year at the earliest.
---
5th Gear: Carlos Ghosn, poised to make Nissan Motor Co. into Japan's most profitable automaker for the first time since at least 1992, is returning to the type of bold pronouncement he was known for a decade ago. "Nissan is unleashed," Ghosn, 57, told reporters yesterday at company headquarters in Yokohama. "This is the first time we are launching a plan with no handicap. We are fully on the offensive." The chief executive officer, anticipating higher global production, had Nissan stocking electrical components before the March 11 earthquake and tsunami. That positioned it to recover faster than Toyota Motor Corp. or Honda Motor Co. In North America, Japan's second-biggest carmaker lost a week of output while the other two have yet to resume full production. Nissan now targets operating income of 460 billion yen ($5.7 billion) in the year ending March 2012, while Toyota expects 300 billion yen and Honda estimates 200 billion yen. That would be the first time Nissan beat its two biggest competitors, according to Bloomberg data dating to 1992.
---
6th Gear: Developed in cooperation with the Federal Trade Commission, the Environmental Protection Agency has unveiled a final label design to be displayed on fuel pumps that dispense the new E15 gasoline blend containing more than 10 percent and up to 15 percent ethanol. The orange and black label warns consumers not to put the fuel in vehicles that predate the 2001 model year and also cautions against using the blend in other vehicles like motorcycles and boats, as well as in gasoline-burning equipment like lawnmowers and chainsaws.
---
Reverse:
⏎ Chinese Electric Taxis Struggle to Win Mass Appeal. [CNBC]
⏎ GM exec says talks with UAW already under way. [AP via BusinessWeek]
⏎ Lewis Hamilton 'won't give up'. [Top Gear]
⏎ LaHood's visit to focus on jobs at GM plants. [Detroit Free Press]
⏎ UAW exec arrested, released. [Detroit Free Press]
⏎ I saw Transformers: Dark of the Moon last night. It was kind of like Michael Bay took the explosiongasmic art film that was the second movie — and pumped it full of steroids, napalm and the apocalyptic destruction of Chicago. By the way — no movie needs 15 minutes of exposition before the title card. And can someone please explain why Nascar-Bots have Irish and Australian accents?
---
Today in Automotive History:
Blonde bombshell actress Jayne Mansfield is killed instantly on this day in 1967 when the car in which she is riding strikes the rear of a trailer truck on Interstate-90 east of New Orleans, Louisiana. [History]
Show us your tips!
Got tips for our editors? Want to anonymously dish some dirt on a competitor? Know something about a secret car? Email us at tips@jalopnik.com.
Lost in our new layout?
Click here for the Opposite Lock or Tips forums. Want a more "blog-like" look? Click the button up top next to "Top Stories."
Get more Jalopnik!
Want even more Jalopnik? Want to know which of your friends read us? "Like" us on Facebook and follow us on Twitter.