1st Gear: When Everything's A Prius, Nothing Is?
The Toyota Prius is considered an unstoppable blight unto the car enthusiast, spreading its fuel-efficient tentacles across the land, consuming the formerly good souls of those powerless to resist its purported money savings. It's so successful, in fact, that Toyota's apparently now thinking of selling entire powertrain systems to competitors, according to Reuters:
Announcing last week it would expand its gasoline hybrid technology development, Toyota said it would consider selling complete powertrain modules - engines, transmissions and other drive components - to its competitors.

The prospect of giving rivals access to "one-size-fits-all" powertrains comes as cars are increasingly dependent on computerized components, making it easier to design similar parts across model ranges. The industry has moved on from competing largely on mechanical engineering.

You know what? I'm a little upset that Dodge hasn't done this yet with the Hellcat powertrain. Just saying.
2nd Gear: Self-Driving Bolts
In what looks like a bit of a desperate attempt to prove that GM cares about the future, really, you guys, they do, GM's first fleet of prototype self-driving cars won't just drive themselves, they'll also be electric.
Okay, so Tesla did that one first, but GM is doing it too, with Bolts, Bloomberg reports:
General Motors Co. will begin producing self-driving cars at a Michigan factory — and testing them on the state's roads — in a step toward building the vehicles on a large scale, Chief Executive Officer Mary Barra said.

"We believe GM will be one of the first automakers to build high-volume autonomous vehicles in an assembly plant," Barra told reporters at an event Thursday in Detroit. The first models, to be produced in Orion Township starting early next year, will be Chevrolet Bolt electric cars outfitted with autonomous driving equipment, the automaker said in a statement.

G/O Media may get a commission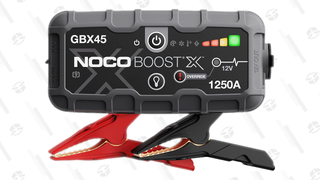 13% Off
Noco Boost X GBX75 Jump Starter
And while that all seems fine on the face of it, this is actually a really weird statement from Barra. She doesn't say when these autonomous vehicles will be on sale, just that they'll be built. And while the first models will be built early next year, those will probably just be prototypes.
Still! A step in the right direction for GM, if it wants to survive the next inevitable carpocalypse.
3rd Gear: What's Good For America Is Actually Good For Mexico, Nissan CEO Says
Carlos Ghosn, the head of both Nissan and Renault, has poked his head out to say some words about America, Mexico, Trump, trade, and possibly the meaning of life as well, Bloomberg says:
Nissan Motor Co. Chief Executive Officer Carlos Ghosn said that U.S. President-elect Donald Trump's America-first agenda should mean trade with Mexico, where the Japanese company is the biggest auto producer, will be protected.

"I'm not very worried because what has been said by the president-elect of the U.S. is 'America first,' and American interests in Mexico are huge," Ghosn said at Nissan's headquarter in Yokohama, Japan on Friday. "Protecting American interests in a certain way means protecting trade with Mexico."

Broken down, Ghosn is saying that what's good for American companies is good for America. Which, for all of Trump's blustering, never seemed to be at the core of his pseudo-populist campaign rhetoric. Trump didn't seem to really want American companies to do well if it came at the expense of American workers.
On the other hand, it's looking like much of Trump's pseudo-populist rhetoric meant a lot to begin with. So maybe Ghosn has nothing to worry about.
4th Gear: Fisker's Back, Maybe, Sort Of
Remember the Fisker Karma? I liked the Fisker Karma. Damn shame what happened to it. But it'll be back soon, if the Chinese government and a Chinese corporation have anything to do with it, Reuters reports:
According to a notice on Friday on the website of the National Development and Reform Commission (NDRC), China's top economic and industrial planner, Wanxiang has the green light to build a factory with capacity to produce 50,000 electric cars a year.

The move means the former Fisker Automotive, which was founded in part with a U.S. government loan and ceased production of its $100,000 plug-in electric hybrid sports cars in 2012 after a series of technical glitches and cost overruns, continues to survive under Chinese ownership after Wanxiang gave it a second life.

Maybe they'll bring it back and it'll be exactly the same and I will love the little gorgeous oddball forever and ever and ever.
Jason was wrong. Ya hear that Jason? KARMA FOREVER.
5th Gear: Mercedes Is Going To Be The Biggest Again
Biggest luxury carmaker, that is, the Detroit News reports:
Mercedes-Benz has built an all-but insurmountable lead over rival BMW in the race for the title of the world's biggest luxury-car brand, and that sales momentum looks set to continue through at least 2018.

Surging demand for sport utility vehicles including the GLC helped Mercedes deliveries jump 12 percent in the 11 months through November, more than double the pace of growth for BMW AG's namesake brand. That left Mercedes more than 69,100 cars ahead of BMW for the period.

Bring back the Grosser.
Reverse: OPEC States Raise Oil Prices
On December 16, 1979, the night before the Organization of Petroleum Exporting Countries' annual price-setting meeting in Caracas, two member states (Libya and Indonesia) announce plans to raise the price of their oil by $4 (Libya) and $2 (Indonesia) per barrel. (The resulting prices–$30 and $25.50 per barrel, respectively–were among the highest they had ever been.) These diplomatic maneuverings were intended to keep OPEC's "price hawks" from raising them even further; nevertheless, by the end of 1979 the cost of oil had more than doubled since the end of the previous year.

Neutral: What About The Other Oddballs?
The Fisker Karma was a glorious weirdo that never really got a fair shake, but now it might get a second lease on life. What other random oddball should have gotten another chance?