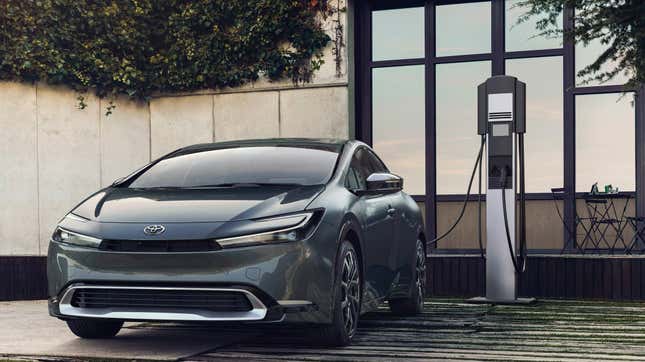 Billions are being poured into EVs, yet Toyota, so far, is standing firm in its belief that EVs aren't the only answer to the future of transportation. The Wall Street Journal reports that while the company is getting ready for the new Prius Prime to hit dealer lots, Toyota is also making moves to convince more buyers plug-in hybrids are a solution. Toyota even calls it "practical."
Chase Elliott Explains the Challenge of Adapting to NASCAR's Next Gen Car
In case you missed it:
Well, PHEVs are "practical electric vehicles," at least, according to Toyota, a term apparently aimed at reducing range anxiety for those convincing themselves to go electric, or partially so. Toyota CEO Koji Sato called plug-in hybrids "a practical way in which we can shift toward electrified vehicles." "There are regions that are moving speedily toward EVs and others that are taking more time," he said.

Toyota is a bit different in this respect, with GM having said years ago that it doesn't see a future in hybrid vehicles. Toyota appears to be betting on a few things, one of which is that EVs still cost too much. The average price of an EV is just under $59,000 now; that's almost $5,000 higher than it was less than a year ago, while charging infrastructure remains bad in America. According to at least one dealer The WSJ spoke to, some EV buyers are having second thoughts.
Hanley Dawson III, whose family operates a group of car dealers in the Chicago area, says a number of customers have returned EVs after underestimating the difficulties posed by limited range and charging problems."They then inquire about hybrids," Mr. Dawson said.
That is probably music to the ears of Toyota, which is planning on introducing more plug-in hybrid models, but, long-term, it's hard to see what the real endgame is here.