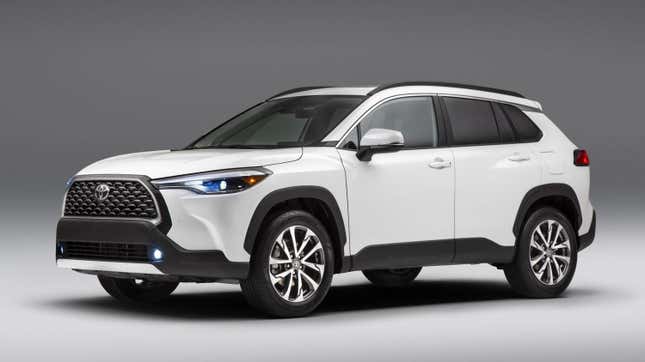 Toyota is warning certain 2022-2023 Corolla Cross owners not to put anyone in the front passenger seat of their crossover until a fix can be made to an issue with the vehicle's airbags. According to a statement from Toyota, the front passenger airbag may not deploy as designed because of a manufacturing error. Because of that, the vehicle may not meet federal safety standards.
Owners of impacted Corolla Crosses will have to take their crossover to a Toyota dealer for inspection, and if an issue is found they will replace the instrument panel where the airbag is located. Owners can expect to be notified if they've got a problem child vehicle by late July of this year.
Toyota says that Corolla Cross Hybrid models are not impacted by this recall. If you're wondering if your Corolla Cross has this defect, you can visit Toyota.com/recall and enter your VIN or license plate number.
Toyota's statement does not say whether or not any injuries have been tied to this issue, so Jalopnik reached out to the automaker for more information. A spokesperson for the automaker declined to comment.