BJ Baldwin is one of the most elite off-road racers driving right now. When he makes a mistake, things blow up big time, as you can see from the way his truck looks "after hitting a rock the size of a car" at 75 mph in the 2016 Baja 1000.

Baldwin, slurring his speech through what was probably at least a mild concussion, had the wherewithal to whip out his phone to document the damage and shout out a sponsor ("Look how tough these Rigid lights are!") before confirming that everybody was okay.
He described the obstacle he whacked as: "The worst thing that I have hit. So far. To date. But we're glad to be okay."
I hope he checked in with a doctor anyway, head injuries are nothing to mess around with!
This was Baldwin's first Baja 1000 as Toyota's factory driver, running a Trophy Truck with a Tundra body. For those of you just joining us, that's the fastest class of vehicle at basically the most extreme off-road race north of the Dakar Rally.
G/O Media may get a commission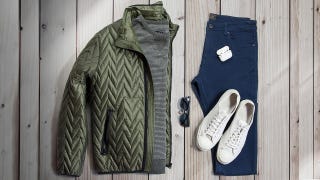 60% off
Jachs NY Fall Sale 60% Off
As new readers might be guessing, there's really very little "Toyota Tundra" attached to this custom-built race chassis designed to look like Toyota's full-size pickup.
Thankfully Baldwin and his co-driver walked away, but even though the truck obviously had a solid roll cage, head-on crashes are exceptionally dangerous in a vehicle like this. A cage is best suited to protect drivers in a roll– consecutive but not necessarily direct impacts from multiple sides. Hence "roll" cage.
I'd argue that a head-on wreck is much harder to survive. While a modern car is designed to crumple and sacrifice itself to protect its occupants, a rigid cage will clang and bang and could transfer significant shock the people inside it in a single hard-impact event.
But what am I doing playing WebMD? Toyota's drivers are alive and already planning for next year. Not the result the team wanted I'm sure, but at least they got a few good photos of the thing in action before it got borked.
I'll update this post if any more details come to light surrounding the conditions or reason for the crash, but so far it looks like a case of "that's racing."