A third shift is being added to the factory that makes the 2014 Toyota Tacoma in Baja, Mexico. Toyota says they're doing it to free up space at their Texas facility to build more Tundras, I reckon they're sharpening swords for war with the Chevy Colorado.
Toyota's Manufacturing External Affairs guy Victor Vanov says their truck plant in San Antonio, Texas currently cranks out about 1,000 trucks (Tacomas and Tundras combined) a day and is on pace to build 235,000 in 2014. That'd be a record for their production.
Earlier this year, Toyota made a small boost to their Baja plant which also produces pickup trucks upping output to 63,000. This new increase effective in April would take Mexican production of the Tacoma up to 89,000 units a year.
G/O Media may get a commission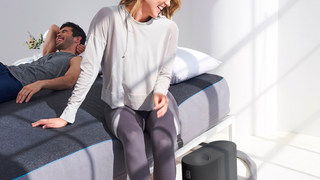 Eight Sleep Pod Cover
Demand is rising for the Tundra; sales are up 10.15% since this time last year.
But the Tacoma is actually backsliding a little. Sales of the mid-sized truck are down 6.85% from last year and currently account for 6.31% of the brand's total 2014 sales, as opposed to 7.19% in 2013.
Tacoma still commands almost 70% of the "mid-size truck" market share, but that little pond is about to have two hungry sharks called the 2015 Chevrolet Colorado and 2015 GMC Canyon dropped into it that will change the market considerably, even if they're only do "alright."
Toyota's obviously confident in their mid-sized product, or they wouldn't have left it unchanged for so many years. But they've got to be at least a little concerned that a new player is coming into the mid-sized space. I wouldn't be surprised if there are some good Tacoma incentives at Toyota stores when the GM trucks finally land.
Hat tip to Automotive News!
Image: Toyota