Back before they became the enormous and bloated choice of bugeye sunglass-wearing urban white trash, Toyota FJ Cruisers were compact, capable off-roading machines. We told you about TLC's plans build up some of their old-looking new trucks with a trio of FJ's for the floor of SEMA. They already build an FH40 version, but now they're adding FJ43 long-wheelbase and an FJ45 pick up with a long-travel coil suspension, Stoptech brakes and a 550 HP LS2 V8. Mighty fine figures for a vintage inspired truck even though they're purpose built off-roaders to begin with Take a look at some new pictures below — we'll bring you the trucks from the show floor this week. Also, hit the jump to see a video from the folks at Streetfire of the truck build in process.

G/O Media may get a commission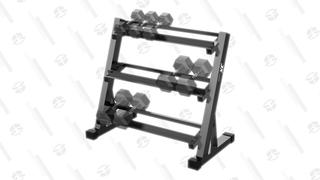 20% Off
JX Fitness Dumbbell Rack
Gains but tidy
Has a three-tier design to help store more weights more conveniently, can safely support up to 1000lbs of weight, which should be enough for most people, has a triangle base for stability, and also features anti-scratch feet which is great if you've built your own studio or workout in your garage.
Click to view
[Source: TLC ICON]