Goodyear Tire & Rubber Company added a brand-new, state-of-the-art blimp to its stable of iconic airships on Friday at Goodyear's Wingfoot Lake hangar in Suffield, Ohio. The newest blimp is larger and more maneuverable than previous models. It's also faster, capable of hitting 73 mph.
Goodyear's blimps are recognized around the world, and could be considered the best-known marketing tool on Earth that regularly floats above it.
The yet-to-be-named blimp will begin test flights this month, and is expected to go into service this summer. Goodyear Senior VP Global Communications Paul Fitzhenry said:
"The completion of the new blimp marks the beginning of a new era for our airship program and reflects Goodyear's commitment to remaining at the forefront of aerial broadcast coverage and support. The Airship will offer enhanced aerial television coverage capabilities, increased flight range to cover more events and an unparalleled passenger experience."
Construction of the blimp began last year, in partnership with Germany's ZLT Zeppelin Luftschtechnik. Parts of the ship including the tail fins and gondola were built in Germany and shipped to Ohio for assembly. The balloon part of the blimp, actually called the "envelope" is made of polyester, and covered in a new DuPont film called Tedlar. Unlike previous Goodyear blimps, the envelope on this blimp has a semi-rigid internal structure.
At 246 feet in length, the newest blimp is also 50 feet longer and tops out at 73 miles per hour – 23 MPH faster than the previous generation. The new blimp's paint scheme is striking, and sticks to Goodyear's traditional blue and yellow color palette.
Digital avionics will control the blimp's thrust, pitch and yaw. The new controls are a major upgrade for the new blimp versus the old model, which required manual control by the pilots. The rudder will still be controlled manually via a joystick.
G/O Media may get a commission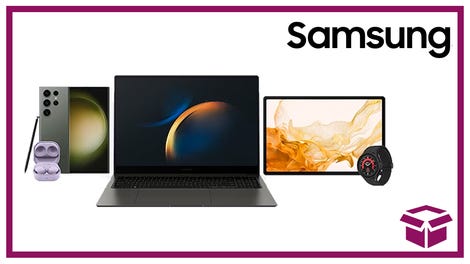 24 hour deals
Discover Samsung - Daily Deal
Goodyear has long history with blimps, having built over 300 lighter-than-air vehicles including two large rigid airships built in the early 1930s, the U.S.S. Akron and U.S.S. Macon. They were commissioned by the U.S. Navy and served as flying aircraft carriers, carrying Curtis F9C Sparrowhawk biplanes. Sadly, both the Akron and Macon were lost in seperate incidents. The Akron and Macon still hold the record for being the largest helium airships ever built. The Hindenburg was larger, but was filled with hydrogen.

Did I mention that the blimp has no name? Goodyear is holding a nationwide contest to name it. The winner will be invited to experience a full day of airship activities. Riding on a blimp is on my aviation geek "bucket list" so I'd definitely covet that prize! This is the second naming contest Goodyear has held for a new blimp. The previous winner, dubbed Spirit of Innovation in 2006, operates from Pompano Beach, Florida.
Photos/Video: Goodyear