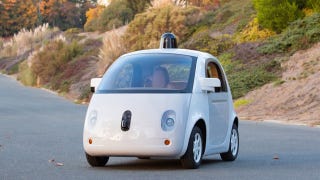 When Google announced its purpose-built, self-driving car program in May, the prototype it used for demos was a very rough, early build. After testing all of the different systems in a variety of prototypes, Google has built its first complete robo-pod that's ready to take to the streets.
For the past several months, Google has been working on a series of builds, with different prototypes used for different systems.
…for example, the typical "car" parts like steering and braking, as well as the "self-driving" parts like the computer and sensors. We've now put all those systems together in this fully functional vehicle – our first complete prototype for fully autonomous driving.
This latest prototype puts all of those bits together into a single package, and if you look at the complete build above and the original below, you can spot the differences, including the new LIDAR unit and real headlights.
Or for a better illustration:
Google says it will be running the newest build around its test track over the holidays with "safety drivers" that can use the temporary manual controls if necessary.