Forget Dubai and their ridiculous Ferrari FF and Lamborghini Aventador police cars! The only reason for having those is to show off their money. That's not classy at all. This Triumph TR4 on the other hand is the real deal, and it's for sale.
I can't say this is the coolest police car of all time. I can't even say that this is the coolest police car ever to come out of Great Britain, because that would be the Ford RS200. Still, getting a 1962 Triumph TR4 with 105 horsepower and an open top must have been a pretty good reason for joining the force back in the day.
Used as a fast pursuit car thanks to its top speed of 110 mph, these police Triumphs were equipped with a Pye radio, Winkworth bell, air horns, windscreen mounted hand operated lamp, front and rear police signs and a rear stop sign. Legend has it that the officers drove it approximately 1,000 miles a week with the top down, always wearing their helmets with chin straps in place.
G/O Media may get a commission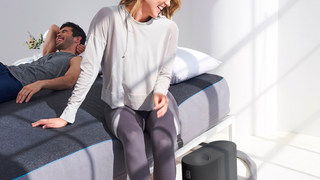 Eight Sleep Pod Cover
This particular car was last sold to a vendor in 1991 who took the decision to restore it to its original police specification with the assistance of members of Police Car UK. "4100 HJ" also acted as the cover star of the book 'Advanced Driving Explained' by Inspector W.H Jobson, while Vanguard Models also produced 1500 limited 'Special Edition' models based on this actual car.
The special Triumph will be presented for sale by Historics at Brooklands on Saturday June 1, 2013, for an estimated price of £35,000 - £40,000 ($53,000-$60,000). Great for avoiding speeding tickets!
Photo credits: Historics at Brooklands