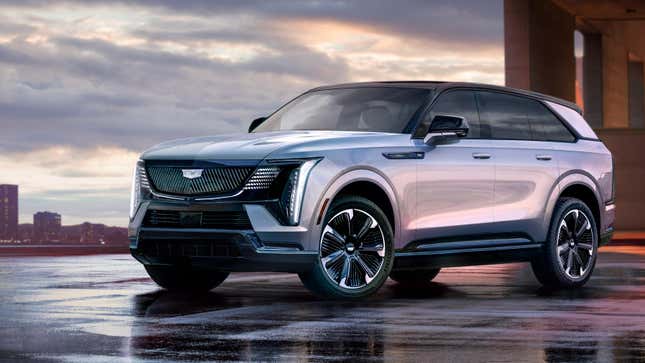 Cadillac, just a few years ago, announced it would lead GM's electric strategy, and shortly after that, it revealed the Escalade V-series, which was a surprise in that it went in the complete opposite direction of the new image Cadillac was set to put forth. But the Escalade V is doing quite well, considering it's the fun "swan song" for the General's luxury and eventual electrified child, and the brand has since revealed two of its electric vehicles: the Lyriq and Celestiq. But the Escalade, now Cadillac's halo since its introduction over 20 years ago, couldn't be left behind. So, after all that fuss, Cadillac will be bringing its halo vehicle into the new age of plug-ins, as the Escalade IQ.
The New, Electric Escalade IQ
The 2025 Cadillac Escalade IQ is its very own thing, built on GM's Ultiium platform, with the 24-module Ultium battery (same as the GMC Hummer truck), to provide an estimated range of about 450 miles, which according to the EPA actually falls in-between the range of an ICE and diesel Escalade. Cadillac says the Ultium battery will allow the Escalade IQ to produce over 200 kWh, and when combined with Cadillac's "driver selectable Velocity Max" can produce up to 750 horsepower and 785 lb-ft of torque. That powerhouse can get this relatively large vehicle from zero to sixty (unnecessarily) in less than five seconds, and also provides a somewhat healthy towing capacity of up to 8,000 pounds.
Escalade IQ will also be able to utilize 800-volt DC fast charging, which will get Escalade 100 miles of range within 10 minutes of a charge (that is, if you can find a fast-charger that works). Drivers will also be able to utilize one-pedal driving and "variable regen on Demand," to reclaim some of that power. The Escalade will also feature Cadillac's new regenerative solution, via its Ultium Energy Recovery, where the system "repurposes waste energy from the battery," to do things like heat the interior, etc.
Available for the 2025 model year will be an over-the-air update that will allow Escalade IQ to use Vehicle-to-Home bidirectional charging technology, making your six-figure electric SUV available to power your home in an event like an outage, for example. Optional for Escalade IQ will be Vehicle-to-Load, for the ability to power external devices.
Cadillac Escalade IQ Exterior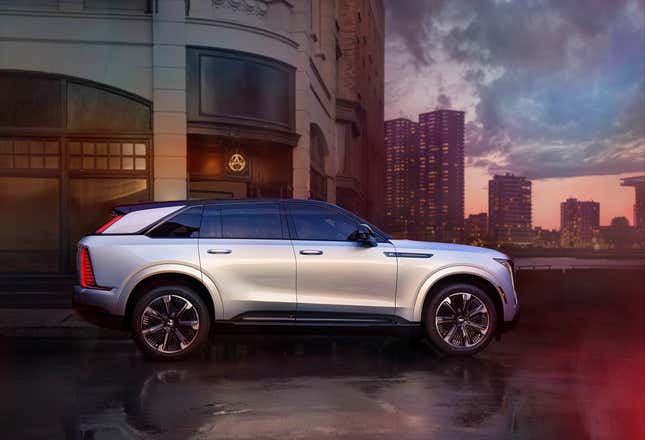 What may be the most noticeable difference between the Escalade IQ and the Escalade of yore is the overall exterior design and lines. The IQ is certainly more curvy than its ICE older brother, with the rear emulating that familiar tapered look we've seen on many newer-designed SUVs and crossovers, as well as Cadillac's Lyriq and the brand's other non-EV crossover models. But that curved roof and those more sculpted aero-conscious lines have helped to make Escalade IQ Cadillac's most aerodynamic Escalade ever, having reduced the coefficient of drag by 15 percent. Aerodynamic design was even put into the IQ's 24-inch wheels (which will wear an astounding 35-inch tire); look closely, and you can see they have what look like vented spokes, which is also supposed to help with airflow.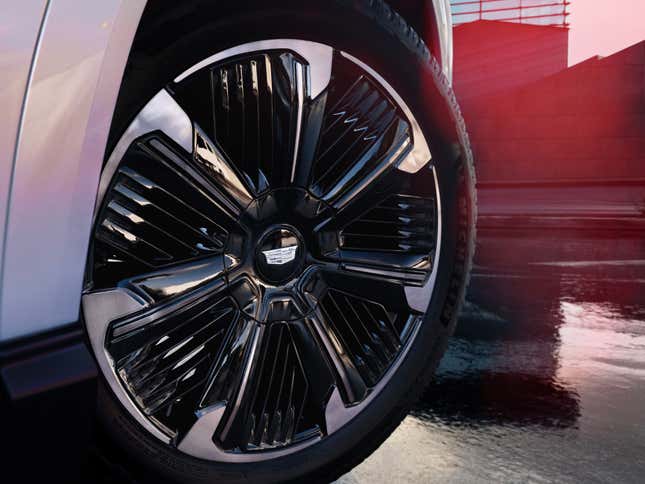 Up front, the IQ wears automated grille shutters that are able to close depending on airflow needs. There you will also find that most of the front grille and badge are part of an LED-illuminated design set behind black crystal, which can also be choreographed (for when you approach or leave the car while it's parked, no shows while we're driving), along with the rear lights. Although prepare yourself for the rear light design, which is no longer the one-bar long vertical taillight and is clearly now it's own thing.
Escalade IQ will be available in six colors, which can be paired with an optional black-painted roof, which is, I guess, the thing to do on SUVs nowadays. Those colors can be paired with the IQ's two trim packages, or as Cadillac calls them, "personas" — Luxury and Sport. Luxury models will have brushed aluminum metallic finishes on areas like the wheels and moldings, while Sport will be complemented with "a darkened metal finish."
What's On The Inside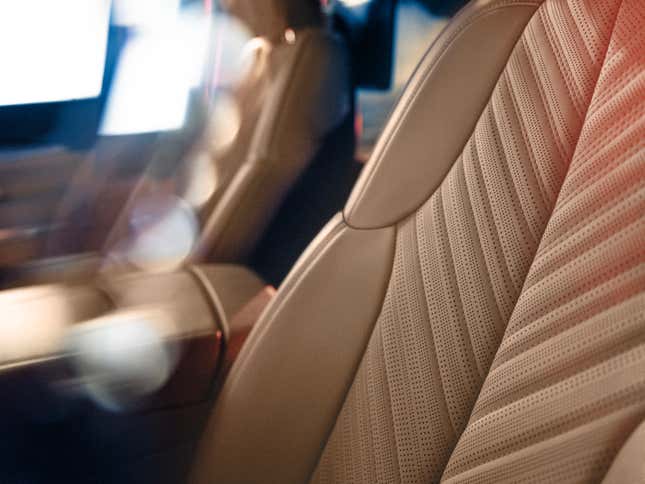 Cadillac's luxurious design language introduced in the Celestiq carries over to the IQ. Here you'll find the same supple leathers, soft leather touch points, and uniquely quilted, perforated leather seating. Minimal design language comes through in the simple center console, featuring just a couple of dials and a digital screen control panel. However, most of the vehicle's functions will be accessible through the combined 55-inch diagonal "pillar-to-pillar" LED display across the dashboard. That screen is actually two screens: a 35-inch diagonal screen for the driver, and a 20-inch diagonal for the front passenger. Driver controls will include Google built-in products like Google Assistant, Google Maps and Google Play. Also included are virtual smart controls, such as Universal Remote, which can learn over time to do things like open your garage as you pull up to your home.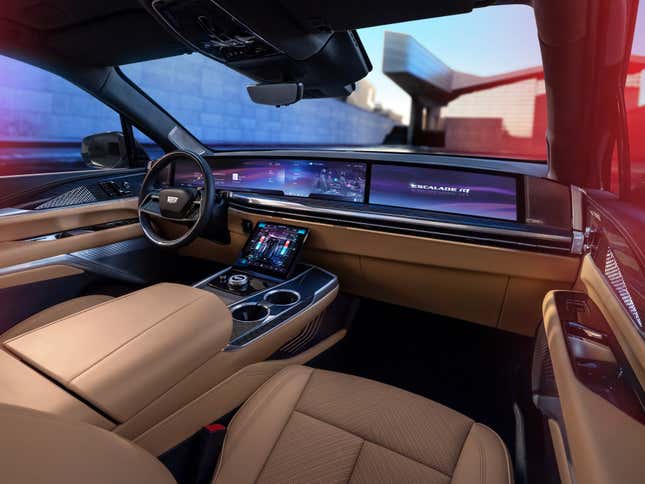 Select the Executive second-row seating package to get 12.6-inch diagonal screens for each passenger. The center console also extends into that second row, providing a rear command-center screen for your own climate and luxury controls for things like massaging seats and volume control for the speakers in your headrest. You'll also find dual wireless phone charging pads, USB-C and HDMI ports (which are tucked under that center console, mirroring the same "purse storage" up front).
Going for a long trip or just have a lot to haul around? The large eTrunk at the front can accommodate 12 cubic-feet of storage. Behind the rear hatch is a small amount of storage which can be expanded by power-folding the third row of seats.
The 2025 Cadillac Escalade IQ's Technology
Customers don't have to really lift much more than a finger to get into and out of their vehicles, as Cadillac says IQ customers will be able to get in and out with "the touch of a button" that will open or close all four doors. An option can also be activated to have the driver's door open automatically as they approach with the key fob. The motorized charge port door can also open automatically with a simple touch.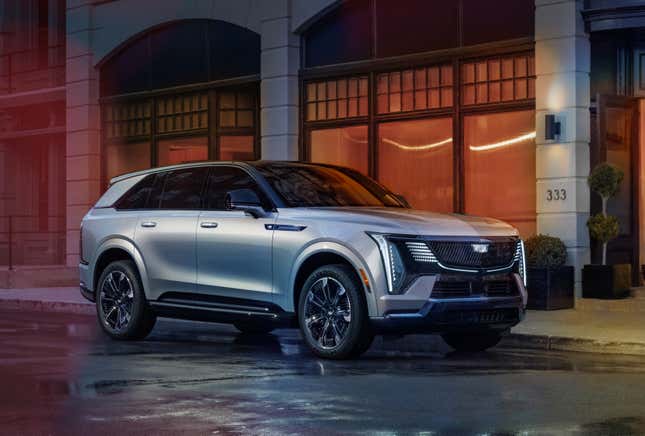 On the road, to help keep all that battery weight under control and create a smooth ride for passengers, Cadillac has included a few ride-aiding features on Escalade IQ like Magnetic Ride Control (4.0), and Adaptive Air Ride Suspension, which can raise or lower the SUV by one inch or two inches, respectively. Drivers can also utilize Low Ride Mode, possibly to look baller, which will lower the SUV at slower speeds.
Standard on the Escalade IQ is Four-Wheel Steer, providing more nimble maneuvering for the relatively large vehicle, by creating a smaller turning diameter (up to 39.4 feet) at low speeds and reducing the overall turning diameter by 6.5 feet. For a little extra help in parking and navigating tight spots, there is also available Cadillac Arrival Mode, which utilizes the four-wheel steer feature and allows the Escalade IQ to move diagonally. Drivers will want that extra maneuvering assistance to move the IQ around, considering the IQ is nearly a foot larger in wheelbase and length compared to the outgoing ICE Escalade. The outgoing 2023 Escalade wheelbase measures at 120.9 inches compared to the IQ's 136.2 inches; Escalade length measures at 211.9 inches, while the IQ is 224.3 inches.
GM's Super Cruise driver assist technology will come standard on the Escalade IQ — with three years of the Super Cruise plan. Also standard will be Cadillac's safety suite that includes Blind Zone Steering Assist, Intersection Automatic Emergency Braking, HD Surround Vision (that over-the-top vehicle camera so many of us appreciate when pulling in and out of places), Enhanced Automatic Parking Assist and Front Pedestrian and Bicyclist Braking. That last one, GM says is designed to "help drivers avoid or reduce the severity of a collision with a pedestrian or bicyclist it detects directly in front of them," between speeds of five and 50 mph.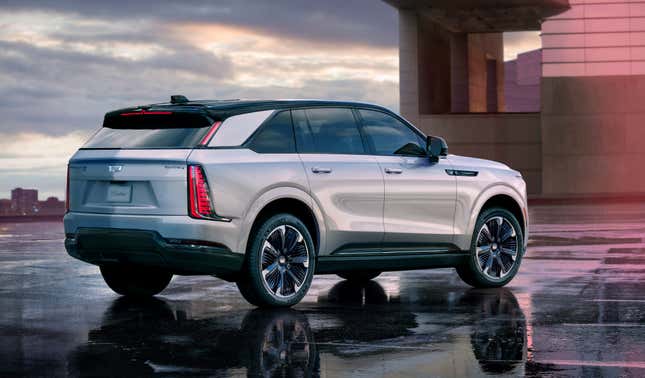 Despite the Escalade IQ exhibiting a lot of luxurious similarities, especially interior-wise, to the Celestiq, it will not be hand built. Cadillac expects to begin production of the IQ sometime next summer at GM's Factory Zero plant in Detroit. It also comes in at a little easier to swallow entry price point compared to the hand-built sedan, with Cadillac saying it's expected to start at $130,000, including destination.