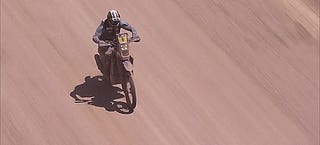 Everyone's a ham for the camera, but how many of you can wave at the cameras while flying along at 112 mph in the sand?

French rider Adrien Van Beveren waved for the cameras atop his Yamaha during Stage 2 of this year's Dakar Rally.
Stage 2 concluded yesterday, and went through Argentina's Chaco region, bumpy sand paths and all. Are you following the race?