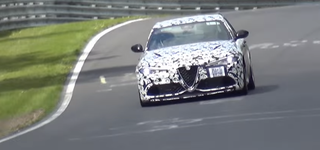 A camouflaged 2017 Alfa Romeo Giulia was spotted testing on the Nürburgring this week, and it looks good and sounds better.
We uh... have a big boner for Alfas (not just Giulias!), and this newest video is more scintillating than ever. The 510 HP 3.0-liter twin turbo V6 engine sounds great, and the braking power around the track is not to be ignored (you'll notice the hazard lights come on when the driver brakes particularly hard).
The Giulia has the potential to be the best sports-sedan of 2017. Move over, BMW.
---
Contact the author at nicole.conlan@jalopnik.com.