Uncovering long-lost treasure is the hope of any budding car enthusiast, although some would say those days are all but gone. But we know better. I present to you a rust-free Datsun 240z that could just be the start of something beautiful.
This 1973 Datsun 240z wasn't an original idea, much like the Edison's lightbulb. But just like Edison's lightbulb, the 240z was the perfection of a product that had yet to be built to such exacting standards. This Datsun was built in the style of European sports coupes, with some shameless American flair thrown in. At the time, Japanese manufacturers were stuggling to make a name for themselves in markets abroad, so differentiation was key. One could argue that it worked quite well.
For power, Datsun mated a 2.4-liter inline 6-cylinder engine with a four speed manual gearbox with two side draft SU carburetors, which weren't as good as the carbs on earlier models because of more stringent emissions laws taking hold in various markets. This meant that it wasn't the fastest thing in the world, but in the present day, it could probably get its doors blown rightly off by a Chevy Aveo.
But that's not what's important because at the starting price of a few thousand American fun coupons (with lots of time still left in the auction), it may just warrant a buy for someone's awesome barn find project.
G/O Media may get a commission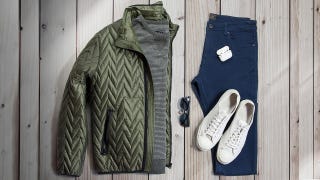 60% off
Jachs NY Fall Sale 60% Off
The car's Arizona roots lead it to be one of the most rust-free non-runners that you can get, with only some surface rust and minor metal work to be done. The previous owner had the car painted white with the original green color shown in the engine bay and underneath the carpets. Although it may seem a bit dusty, it looks solid for a car of its age and condition.
Here's an excerpt from the description:
For sale a 73 240Z Stock,been sitting for 15 years in a barn.I bought it from the original owner, Lady that her brother bought for her when graduated collage.Complete Z some surface rust here and there (see pictures) but Floor board and rails are solid.AZ Car since day one.90% original with Matching #'s.The Previous Owner painted the Z white in the past but they did not touched the engine bay sill in original color Light Green(113 Code). Will not take much to make her run....need to drop the gas tank and a good tun up,replace the drive belts etc etc.... you should be good to go after that.Dealer Option A/C system rear over ride bumper bar,mesh dealer option wheels,the interior all Original even the original Radio.Also I have the original Key(one Key opens everything even the glove box) some TLC in the interior like you need to glue back the headliner(I have it) and replace the Passenger door panel or redo it.
There's not much needed here to make it run, just the usual barn find fare like swapping out fluids and cleaning and replacing wear and tear components, but if it were me (and I really am thinking about this one), I'd put in a newer RB25DET engine and keep with the Nissan inline-six theme and get the super-light car up to a power level that would embarrass a Ferrari on a track. Parts and panels for the chassis are plentiful and it's a cheap car to cut your teeth on, so there's no reason not to consider this.
Unless of course, you're scared of getting dirty.
---
Tavarish is the founder of APiDA Online and writes and makes videos aboutbuying and selling cool cars on the internet. He owns the world's cheapestMercedes S-Class, a graffiti-bombed Lexus, and he's the only Jalopnik author that has never driven a Miata. He also has a real name that he didn't feel was journalist-y enough so he used a pen name and this was the best he could do.
You can also follow him on Twitter and Facebook. He won't mind.