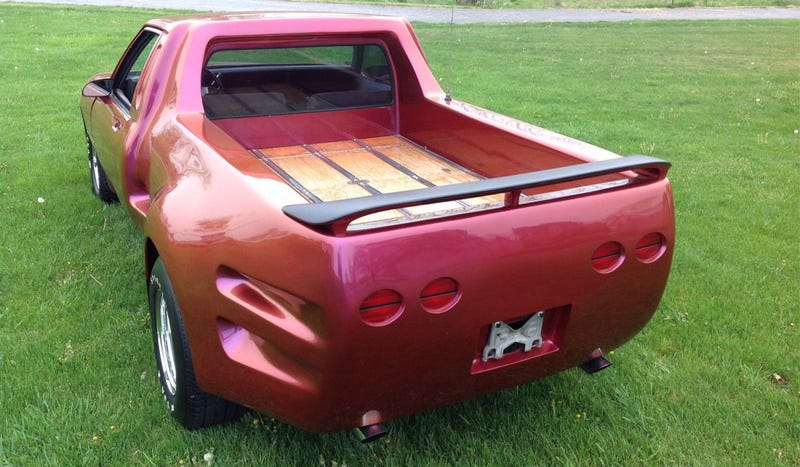 Sometimes you see a car that's such a magnificent blast from the past, you swear you've stepped right back into the '90s. Corvette-style taillights. Those side details. Color-shift paint. A wing added to a pickup. Ladies and gents, behold the most wonderful car-truck-thing for sale on the Internet.

Hooniverse's "Cammed & Tubbed" podcast calls such creations "jail cars," as if they've been preserved just so by someone's loving mother while her kid does several years of hard time. As such, the custom car doesn't receive any updates to bring it into the modern era, but rather, it remains as an amazing product of its original place and time.
Jail cars—a term used regardless of whether its owner served any hard time or not, so let's not make any unsavory assumptions about this seller—are time capsules on four wheels.

Man, I haven't seen any wild ~*~CuStOmZ~*~ like this El Camino-inspired creation in the wild since it was fashionable to type things as if you were writing copy for a Delia's catalog.

The amount of work that went into this build is nothing short of impressive, either. This El Camino-style truck-thing started its life as a Chevrolet Caprice, according to the listing on eBay:
You are bidding on an El Camino "look" Super Chevy Sidestep Sport Truck kit car on a 1988 Caprice frame . The vehicle has a 350 GM Target Crate Engine with 10,000 miles on the motor. The mileage on the vehicle is exempt. It is an automatic with dual exhaust, front disk brakes and a tilt front end. It has Crager SS Mags. No catalytic converter. The truck drives and runs great !!

In addition the truck has a gorgeous $10,000 custom iridescent, pearl paint job - it's beautiful!
That's right, folks: it's the height of a Caprice, but you've got side steps just in case you're of diminutive stature. You may find those more useful than you'd think, as there doesn't appear to be a tailgate.

Look at this thing, man. Even the honey-stained wood in the bed is so very 90s, I just called Chip and Joanna to fix it. If that's your flavor of retro, it currently sits at $8,250, but the reserve isn't met. Maybe he's trying to get that $10,000 in fuschia-orange paint back?
Sure, there's a few odd spots. Is that wire from a chicken coop over the headlamps? The interior, too, is straight out of the chassis' previous life as a Grandma-spec Caprice, save for the wheel. Hey, pimpin' ain't easy, and you might as well spend the money where it counts: where people can see it.
I can barely handle this much used-car excellence, but just in case you can, you can check it out on eBay here.

All photos belong to the original listing on eBay here.