This year's LA Auto Show has been kind of a strange one. There have been a few good debuts, but also a ton of stuff we've seen online and at other auto shows; not many surprises overall. But there's a very nice surprise waiting in the Toyota section of the floor: this gorgeous white 1967 Toyota 2000GT.
Granted, there are a lot of really cool new cars on the show floor this year, amazing and stylish and efficient machines that are safer and better-performing than at any point in car history.
But this 2000GT is cooler. It just is. Real talk. End of story.
If you aren't familiar with the 2000GT, it has a pretty fascinating back story. Think of it as kind of like the Lexus LFA of its day, except with vastly more historical significance. The car first showed up as a concept in 1965, back when the fledgling Japanese auto industry wasn't taken very seriously on the world stage, and was more known for making motorcycles than cars.
G/O Media may get a commission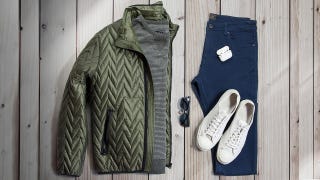 60% off
Jachs NY Fall Sale 60% Off
The 2000GT was a sucker punch to the whole world, shocking proof that once-war torn Japan could make cars that inspired lust as well as anyone else. Largely credited to German-born designer Albrecht Goertz, who also penned the stunning BMW 507 and later the Datsun 240Z/Nissan Fairlady Z, the 2000GT echoed many sports cars of its time, including the Jaguar E-Type and others. Power came from a 150 horsepower 2.0-liter inline six that offered performance on par with the Porsche 911 of the day.
Then as now, it was a fantastically rare machine. Only 337 were ever produced, and just 54 made it to North America. The one at the LA show is a left-hand drive model, curiously enough.
Even today, the car looks amazing. With its swooping curves and classic sports car profile, it has certainly aged well. The interior is incredibly tasteful mashup of wood and leather. The car held its own against anything from Europe or America.
It's at the auto show near a 1961 Land Cruiser and an IMSA GTP racer from the early 1990s. If you're down there, stop by and say hi. This 2000GT would probably be happy to know it's still appreciated.